UCSF Fitness Centers Open with Personal Workout Pods
---
By Robert Hood on October 22, 2020
---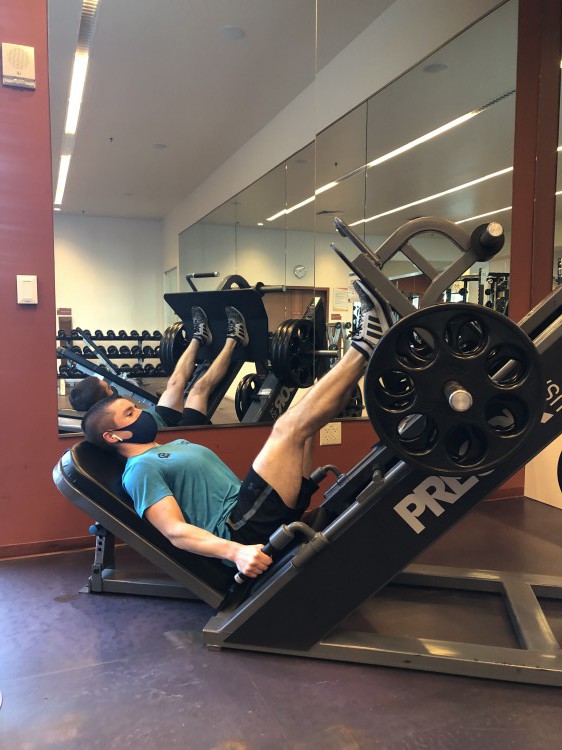 Editor's Note: The UCSF Fitness Centers have been closed due to a surge in COVID-19 cases.
For Zach Hoisington, a PhD student in Pharmaceutical Science, the opening of the Millberry Fitness & Recreation Center at Parnassus couldn't come soon enough.
"When I heard the fitness center was reopening I was like, awesome, I'll be first in line," he said. Like most San Francisco residents, Hoisington doesn't have room in his apartment for 200+ pounds of weights, so he was eager to get back to the fitness center to work out. Hoisington joined several other members at the reopening on Monday, Nov. 2. He was impressed with the safety precautions that had been implemented and said the personal workout pods had everything he needed.
"I almost think it's too safe," he said. "I would be fine with more people allowed. The personal workout pods had everything anyone would need, especially if you're getting bored with home workouts. It has everything you really need for a full-body workout."
In addition, UCSF employees who join by Nov. 30 will pay $0 enrollment fee. Contact member.services (at) ucsf.edu to sign up today.
Liane Wong, interim director of the fitness centers, said the staff was excited to welcome the UCSF community back. "With guidance from UCSF experts and in compliance with public health directives, we've made many changes to make workouts as safe as possible," she said.
That includes new personal workout pods that can be reserved for 60 minutes at a time. A pod is a complete station for one member featuring a cardio machine, various weights, an adjustable step bench, and a stretching area. To enter a fitness center, reservations are required to help maintain 12-feet of social distancing between each member and to comply with maximum capacity restrictions. Members and non-members are welcome.
"All members are required to wear face masks at all times, and we've reconfigured the fitness centers to maintain 12 feet of distance between workout pods and the walkways," Wong said.
New protocols also include closing the fitness centers at midday for disinfecting and performing a second disinfecting session at the end of the day. "In addition, members will be required to wipe down equipment before and after use and our staff will also be wiping down equipment and high-touch surfaces throughout the day," Wong said. "To improve air circulation, our ventilation system has been adjusted to use outside air, air scrubber units are being added, and doors will be left open whenever possible."
Shannon Kastner, a San Francisco General Hospital lab supervisor, was another member who made it to the fitness center at the reopening.
"It was nice to be back," she said. It was great to have all the things that I needed in my pod. It's been hard to get motivated to get off the couch or get out of bed. I've only been walking after work, so it's great to be back in the fitness center where I can push myself."
Kastner was really curious what it would look like to work out in the gym. "There's been a lot of thought and effort put into it," she said. "I felt very safe. Everything is very distant and clean. I really appreciate all of the effort that the staff put into the reopening."
In terms of classes, UCSF Fitness and Recreation has moved to virtual fitness classes. Classes like Yoga, Strength Training for All, and Zumba are all being held virtually so members can stay motivated from the convenience of their own home.
For those who want to exercise safely outdoors, personal training and the popular F45 program is being held on Koret Quad at Mission Bay. Kayaking and stand up paddle are also available at the Mission Creek boathouse, a 10-minute walk from the campus. For more information, visit Outdoor Programs.
Wong said locker rooms, showers, saunas, towel service, and on-premise restrooms will not be available during the first phase of reopening since use of these services is not currently permitted by public health directives. Restrooms outside of the fitness center in common areas are open.
Services that are unavailable in phase one include: swimming pools, locker rooms, gymnasiums, squash and racquetball courts, and the climbing wall.
"It's been a difficult period, but we are excited to reopen the fitness centers to the UCSF community," she said.