UC Hastings' Academic Village Breaks Ground with Rental Units for UCSF
---
By Robert Hood on October 21, 2020
---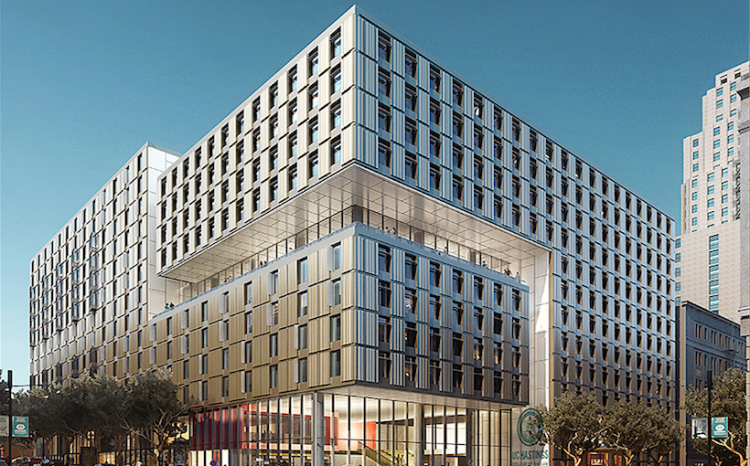 UC Hastings College of the Law
Construction is underway for a 14-story, 356,000-square-foot, building at 198 McAllister that will include 670 units of much-needed housing for UC learners and employees beginning in the summer of 2023.
The project is a collaboration between UCSF and UC Hastings College of the Law to expand the availability of below-market-rent housing in the very expensive San Francisco market. Both UC Hastings and UCSF have identified reasonably priced housing as the key objective for the project. With more housing available, both schools can continue to attract the best and brightest learners and employees.
The new structure will be built on the site of a UC Hastings academic building, which is being demolished to make way for the new mixed-use complex. The academic building has been replaced with a new facility on nearby Golden Gate Avenue.
UC Hastings recently secured $364 million in tax-exempt bond financing for construction of the mixed-use complex, which includes the 670 housing units as well as academic and retail space. UC Hastings has invited UCSF learners and employees to rent units in what is being branded an "Academic Village."
"UC San Francisco is delighted that 230 units (35 percent of the 670 units) will be dedicated to UCSF learners and employees," said UCSF Chancellor Sam Hawgood. "For many years, UCSF and UC Hastings have successfully collaborated on administrative matters and in academic programs, including the UCSF-UC Hastings Consortium on Law, Science and Health Policy. The Academic Village on the UC Hastings Campus will further enable these collaborations.
"UC Hastings is conveniently accessible to many UCSF sites, including to our Parnassus Heights campus via the N-Judah. As UCSF plans to grow, particularly on the westside as part of the Comprehensive Parnassus Heights Plan, we are pleased that the UCSF community will have another reasonably priced housing option in San Francisco."
The new development is conveniently located on the UCSF Gold/Blue shuttle routes and there are plans to add a designated UCSF shuttle stop at 198 McAllister to connect tenants who live there to UCSF's campuses. It's also an easy commute to the UCSF Mission Bay Campus via bicycle and the UCSF Parnassus Heights campus via a short Muni trip.
"This development is located amid numerous San Francisco icons, within two blocks of City Hall, the Asian Art Museum, San Francisco Public Library, Civic Center BART/MUNI Station, United Nations Plaza and Farmers' Market, the Orpheum and ACT Strand theaters, and a new Whole Foods market," said Senior Associate Vice Chancellor of Campus Life Services, Clare Shinnerl. "We are excited about housing a mix of California's top legal and health science scholars, and the intellectual and social opportunities this community will foster."
While UCSF recently doubled its housing inventory with the opening of the Tidelands in the Dogpatch neighborhood near UCSF Mission Bay and will add new faculty apartments at Mount Zion next summer, the university still aspires to further grow its housing inventory. Expanding with UC Hastings is an important step toward that aspiration, as are plans for more housing in the Comprehensive Parnassus Heights Plan.
"It is our hope that we will be able to increase our housing inventory so as to accommodate demand from learners for the full duration of their program. We also hope to have sufficient inventory for interested faculty and staff," said Assistant Vice Chancellor, Housing and Wellbeing Services, Leslie Santos.
Features of the new building include:
A mix of efficiencies, studios, and one-bedroom apartments
Residential amenities including 24-hour security, shared study rooms, an indoor-outdoor residential lounge, common kitchen, video room, laundry, fitness center, exterior atrium, exterior dog run, and bike storage.
Ground-floor retail and café space
"There are also non-housing portions in the Academic Village, including classrooms and offices," said Associate Director of UCSF Housing, Todd McGregor. "We are pleased to have a UCSF presence in the developing Civic Center Neighborhood."