Documents & Media Assists in Building App for HIV Care
---
By Sophia Labeko on March 16, 2021
---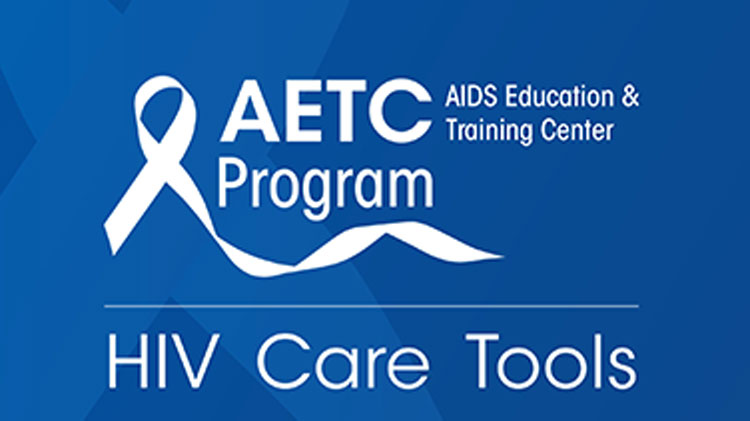 Four UCSF departments–Department of Medicine, Department of Family and Community Medicine, Information Technology Services, and Documents & Media–have partnered to develop and build HIV Care Tools, an app to help clinicians screen, prevent, diagnose, and treat people at risk for or living with HIV.
HIV Care Tools is funded by the Health Resources and Services Administration's HIV/AIDS Bureau through the federal Ending the HIV Epidemic initiative. UCSF Department of Medicine is a partner with Rutgers University School of Nursing, the primary grantee for the project under the AIDS Education and Training Centers National Coordinating Resource Center (AETC NCRC) grant.
The app's first release provides an up-to-date pocket resource for health care providers who are not regularly involved in HIV diagnosis or treatment. It provides an alternative to paper guides, which often got lost, forgotten, or became dated. The information on the app is kept current with evidence-based and state-of-the-art care resources. Susa Coffey, MD, Professor from the UCSF Division of Infectious Diseases, HIV and Global Health and John Nelson, PhD, CNS, CPNP, from Rutgers University's FXB Center selected, reviewed, and updated the HIV Care Tools educational content.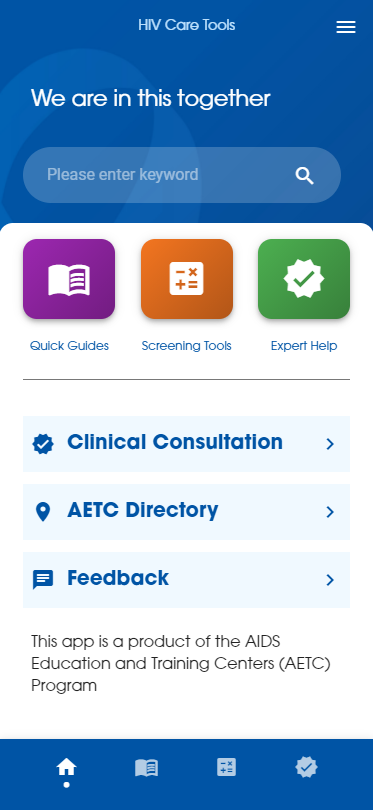 "Our hope is to make providers more comfortable with providing HIV screening, testing, diagnosis, thus expanding the number of people living with HIV who are aware of their infection and are receiving quality care," said Coffey.
Phase one of the HIV Care Tools app took approximately five months to complete.
Content includes:

Quick guides for HIV testing, prevention, rapid start of antiretroviral treatment, and resources to help pay for HIV medications..
Clinical calculators and screeners for common co-occurring conditions. These were developed in partnership with the University of Washington's David Spach, MD, editor of the National HIV Curriculum.
One-touch access to national clinician consultation warmlines for HIV prevention and care, substance use, hepatitis C, and COVID-19. These warmlines are based at UCSF's Department of Family and Community Medicine under the leadership of Carolyn Chu, MD.
Clinician support through AIDS Education and Training Center Program experts who offer free training and capacity building support for the clinical care team.
To assure broad access to the app's resources, all resources are fully functional off-line, which becomes especially valuable in rural areas, prisons, and other settings with limited internet connection.
Between the subject mastery and guidance of Nicolé Mandel and the developing partnership and Drupal expertise of UCSF IT Web Services, we collectively built a strong product that will help support UCSF's mission. We are proud of our cross-organizational team and an impactful outcome" reflected Brian Cosgrove, Senior Technical Program Manager, UCSF Documents & Media.
Documents & Media focused on the application architecture, design, UI/UX, and development; School of Medicine carried the vision, content production, and stakeholder management duties; and IT Web Services provided overarching project direction, Drupal expertise, and financial guidance.
"The UCSF Center for HIV Information (CHI) in the Department of Medicine has managed the AETC NCRC website for almost 20 years, but this is our first app. We were so thankful to have the expertise of the UCSF ITS and Documents & Media teams to support us. The process was amazingly smooth and the product is already receiving praise from our funders and partners," said Nicolé Mandel, UCSF CHI Project Director.
Look for the HIV Care Tools app in the App Store and Google Play in the spring.