COVID Upends UCSF Commute Patterns
---
By Robert Hood on March 10, 2021
---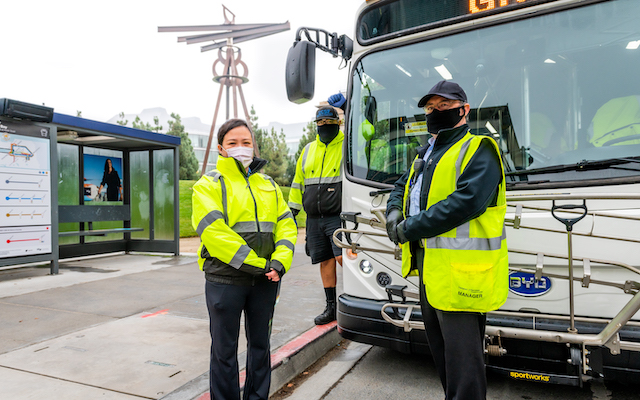 The pandemic upended many aspects of our lives, including our commutes. In a year like no other, UC San Francisco's annual transportation survey recorded the pandemic's impact on UCSF's 2020 commute patterns and anticipated post-pandemic commute needs and routines.
The annual survey, which was conducted in November 2020, included responses from more than 4,200 UCSF staff, faculty, and learners (13 percent of the UCSF population).
Given responsibilities for patient care, health science research, and general operations, 51.6 percent of the surveyed UCSF community continued to commute regularly each week to campus throughout the pandemic. Another 48.4 percent of the surveyed population worked each week during the pandemic in either hybrid mode (combining both onsite and remote work) or 100 percent remote.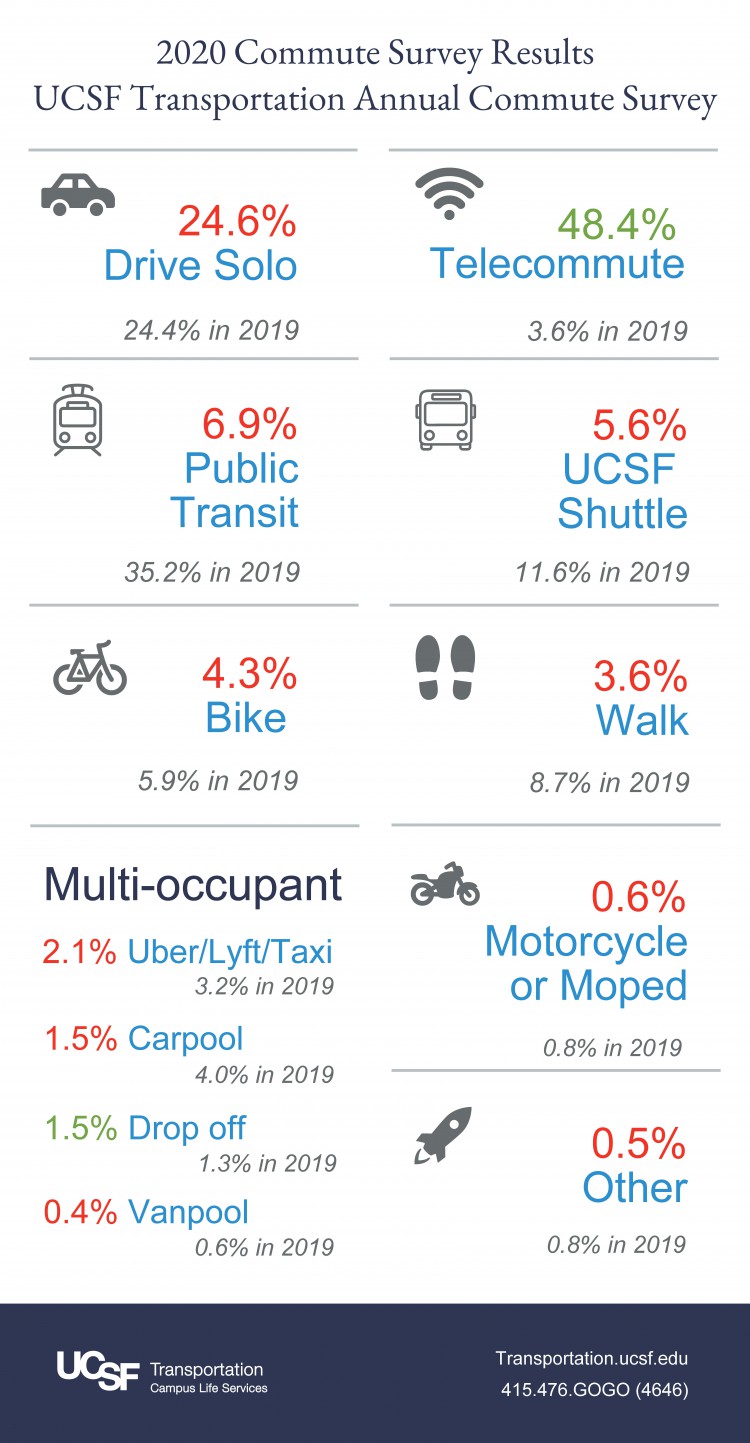 In the November 2020 survey, participants were also asked to "pull out their crystal ball" and forecast commute patterns in a post-pandemic state. Despite the many unknowns, survey participants expect telecommuting to continue to be a strong option for many employees and learners, with 26 percent anticipating that they might work remotely each week (either in hybrid onsite/telework mode or full-time remote) in a post-pandemic state.
Prior to the pandemic, less than four percent of the population teleworked each week in either hybrid or full-time remote mode.
Parking & Driving Alone
UCSF's weekly "drive-alone" rate essentially stayed constant, from 24.4 percent in 2019 to 24.6 percent in 2020. Having a low drive-alone rate is good, as this means UCSF has few cars on the road, producing less traffic and lowering carbon emissions.
In a post-pandemic state, the weekly drive-alone rate for the second half of 2021 could bump up to 28.1 percent. Until public transit and use of carpool is perceived as safe, and so long as traffic in the region remains light and onsite parking remains ample, use of individual cars is expected to remain higher than in pre-pandemic years - but hopefully only for a short while!
Public Transit & UCSF Shuttles
As anticipated, use of public transit decreased on a weekly basis from 35.2 percent (2019) to 6.9 percent (2020). Weekly use of public transit is expected to increase to 18.1 percent in the latter half of 2021 but remain well below pre-pandemic years.
The weekly use of UCSF shuttles for commuting decreased from 11.6 percent in 2019 to 5.6 percent in 2020. Shuttles maintained capacity restrictions in 2020 in order to create space for safe distancing.
Plans are underway to further ramp-up shuttle services when a larger percentage of staff, faculty, and learners are back onsite, and weekly ridership is expected to increase from 5.6 percent (2020) to 9.7 percent in the second half of 2021.
Uber, Lyft, and Taxis
The proportion of people who utilized Uber, Lyft, and taxi services each week decreased from 3.2 percent (2019) to 2.1 percent (2020). Early in the pandemic, Uber and Lyft halted shared-ride options (carpooling) to minimize driver and multiple passenger exposure and to maintain social distancing. This ride option remains unavailable. During the early days of the pandemic, UCSF, in partnership with Uber, began a commute program to support staff who faced a commute hardship due to public transit schedule disruptions. With the increase in Muni and UCSF shuttle service in late August, the program was discontinued at the end of September. Transportation Services assisted UCSF staff with nearly 28,000 Uber rides and supported more than 900 employees from April to September 2020.
For the latter half of 2021, responses suggest small increases in shared options.
For more information visit: Transportation.ucsf.edu