CLS Employees Redeployed to Help UCSF
---
By Robert Hood on January 12, 2021
---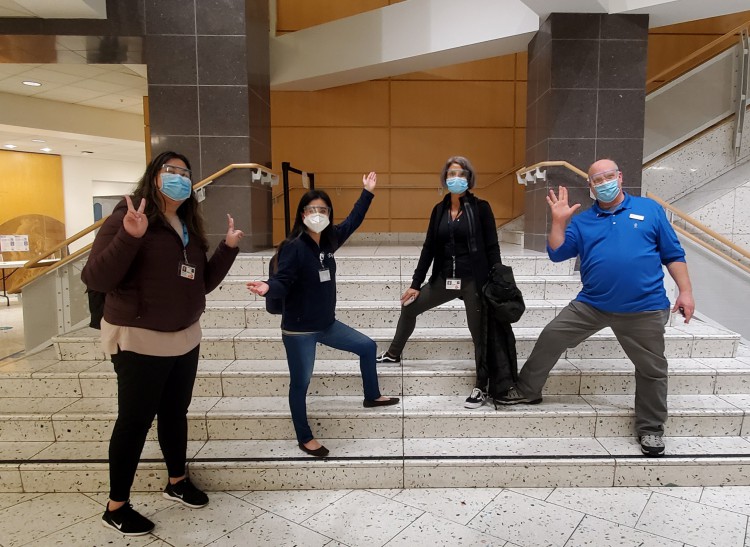 When COVID-19 resurged in the Bay Area, UC San Francisco had to close its fitness centers - again. Although closing was disappointing, the fitness center staff made the best of the situation and accepted redeployment opportunities across UCSF.
Fitness center staff Tiffany Yee, Joanna Yee, Gerri Nuval, Aldo Rossetto (photographed above, left to right) and Lorna Bernardo, all accepted temporary positions working in the university's COVID-19 vaccination clinics. Greg Whisman, Meghan Arriaza, Danski Perez and Kristin Tacorda have been temporarily redeployed as "patient navigators" to help Occupational Health with COVID contact tracing and triaging email and voicemail questions.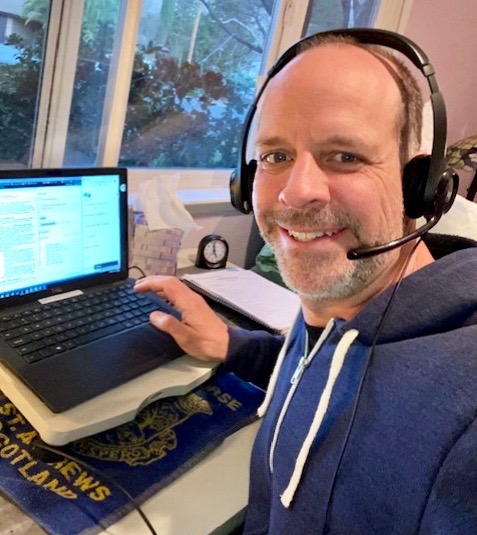 "We're helping nurses and patients connect on different questions and direct the questions as they come in, so they get to the correct person," said Whisman (photographed, left). The team will soon be trained to answer live calls.
Arriaza has been taking meticulous notes and constantly updating them so the team has standard operating procedures to work from.
"Since we don't have specific software, we juggle several different spreadsheets and software applications to put all the pieces together," Whisman said.
Tacorda said paying attention to detail is very important. "Every day we learn something new and every day processes change so we're always ready for adjustments."
Nuval and other fitness center employees are helping to manage the flow of patients and vaccine at the COVID vaccination clinics. They also train new staff, monitor supply levels, retrieve vaccine for the vaccinators, monitor patients, and help staff who are checking in at the clinics.
"When we received the news that we would be redeployed, part of me was excited," Nuval said. "I jumped at the opportunity to work on the health side."
Joanna Yee worked as a communications assistant at the fitness centers and is now serving as a runner at the vaccination clinic. "We each get assigned a room for the day," she said. They monitor vaccine recipients for 15 minutes after their vaccination to make sure there are no adverse side effects. They also serve as greeters and retrieve necessary supplies for the vaccinators.
Nana Geodzhayeva worked as the assistant operations manager for the fitness centers before being redeployed to the Center for Community Engagement while Mike Roberson, operations manager at the Millberry Fitness & Recreation Center is now helping the university save energy and money in his new role with the Office of Sustainability.
Geodzhayeva provides administrative assistance with research evaluations and community outreach for the CCE. Prior to that she worked temporarily for the Institute for Nursing Excellence (INEx) as a quality assurance analyst.
"The most challenging part of any redeployment is fulfilling a role for a department you know very little about," Geodzhayeva said. "There isn't a full onboarding to any of these positions. It wasn't until the end of my time with INEx that I was able to see the broader picture of what their unit does. However, you learn to roll with the work load and adapt to their culture."
Geodzhayeva said working for the campus in Fitness & Recreation gave her an opportunity to provide a healthier life for the UCSF community while working for UCSF Health gives her a better understanding of how UCSF is providing health worldwide. "It has been eye-opening and educational to be part of some of these meetings and research focus groups. I am learning how impactful UCSF really is."
Roberson reaches out to research labs to determine if their chemical fume hoods need to operate during the shutdown. One fume hood uses as much energy as 3.5 houses during a year so the savings can be significant if we shut down some unused fume hoods until labs are back at 100 percent capacity. "Learning a new role is very interesting," he said. "I also like that I'm able to help advance UCSF's mission in ways I've never thought much about."
Roberson said Gail Lee and Rowena Eng in the Office of Sustainability have been very supportive and have helped him understand the research vernacular. "I don't have a research background, so lab terminology was - and continues to be - challenging for me, but Rowena has really helped explain a lot in a short timeframe."
One of the most challenging aspects of Roberson's new position is trying to identify the right people to talk with during the shutdown. "Due to reduced occupancy and many lab managers working remotely, it can be difficult to find the person who can make the decision. However, there have been many researchers who have stepped up to take advantage of this easy energy-saving opportunity to help UCSF reach its carbon neutrality goal."
In the end, while not being able to work in fit rec where staff have worked for years and are trained in specific fit rec fields, it has been a once-in-a-lifetime opportunity to work for other areas of UCSF and fill a void that is desperately needed.