Wrap It in Color
---
By Sophia Labeko on April 08, 2021
---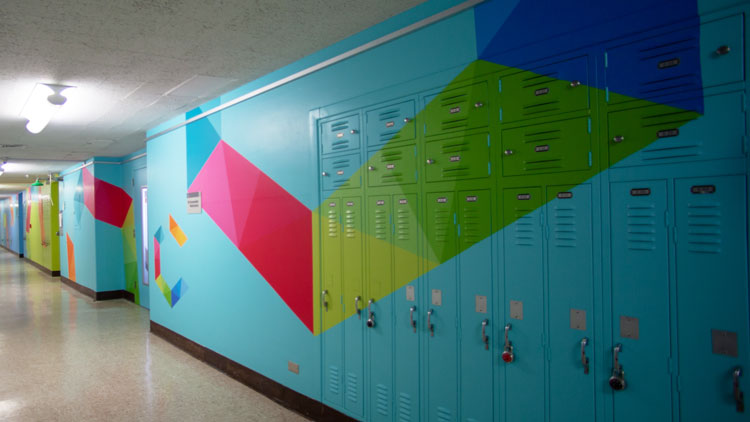 UCSF Documents and Media (DM) has expanded its already extensive service portfolio to include wall and window wrapping.
The team recently completed its largest-to-date job of covering two floors, corridors, and a room with UCSF CoLabs branded vinyl. "Our in-house equipment and cling vendors had never tackled a job so large," Tracey Long, Project Manager, DM.
This dive into new territory started when UCSF CoLabs, a research collaboration for UCSF labs, requested DM's industry expertise and project management skills in reviving and branding their space on the Parnassus Heights campus. DM partnered with Eric Larsen, UCSF Real Estate to help navigate the space and with external vendors to draft, design, and install the artwork.
COVID-19 and the social restrictions associated with the pandemic presented certain collaboration challenges, but nothing that prevented the team from meeting the deadline on the established budget. "Of course, the shelter in place orders set us back a few weeks but DM had a safety plan on file, so we were able to apply for an installation date in time for the opening," explained Long.
The Process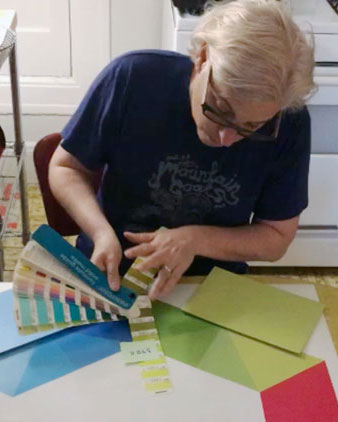 First things first. The team did a walk through, measured the space, and made recommendations for repair work prior to installation. The work included painting, wall repairing, sanding, and removing all existing signage. After all, any imperfection would show through the cling material and result in a less-than-perfect job.
To stick to the budget, the team opted to combine paint and vinyl to achieve the final cohesive effect. Long proofed the vinyl output for color, landing between the paint swatches for the walls and the accurate Pantone colors. Everything had to be compatible and match the UCSF brand. This process is captured in the image to the right.
Watch the behind the scenes video for a glimpse of some perfectly wrapped walls and lockers. Watch on DM's Instagram account >>>
True Local Experience
You know what's helpful during times of social restriction? Working from home and being neighbors with the client. Which is exactly the happy coincidence that happened here.
When Long and one of the clients realized they're neighbors, draft exchange and collaboration became a walk in the neighborhood–easy. They also found time to bond over their love for the local corner store and for all the dogs in the area.
The vinyl shop, responsible for producing all the vinyl used in this project, is just a few blocks from the Mission Center Building, which happens to be Long's office away from home. This project became a truly local experience.