COVID-19 Campus Services Alerts
---
By Monica Mapa on March 18, 2020
---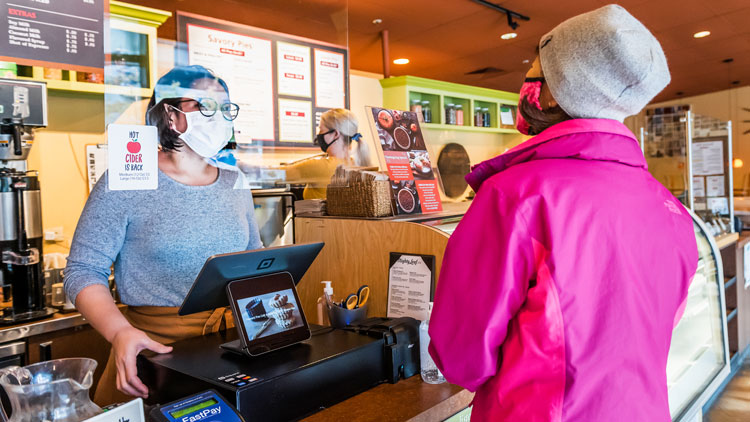 UCSF's retailers remain open and many CLS services continue operation. Learn more in this article.
IMPORTANT REMINDER: This page is periodically updated with the latest information. For more detailed information, please visit specific CLS unit pages.
Last updated: 10/08/2020
For immediate release: The health and safety of our UCSF community is our primary concern. For your convenience, we provide the operating status for the following Campus Life Services service providers. We are closely monitoring the health guidelines and will post updates as the situation changes. We appreciate your patience as our CLS teams work to develop a plan that serves the needs our community during this public health challenge related to COVID-19. Thank you for your patience.

CLS Services in alphabetical order:
Conference & Event Services
All CLS Conference and Event Services locations are closed until further notice, including meeting and community rooms managed by UCSF Housing: Housing Community Room at Mission Bay, Aldea Center, Pelican Room, and Sandpiper Room.
If your event or meeting is before July 1, 2021 and the activity is considered essential and in accordance with public health orders, and UCSF policies, you may request an exemption from the Chancellor's office. Review the FAQs and learn more about the UCSF interim policy on large gathering and events.
You can also fill out the UCSF Essential Events and Gatherings Exemption Request Form.
Before completing the exemption form, student organizations should contact Jennifer Rosko in Student Life Services by email: Jennifer.Rosko(at)ucsf.edu.
If your exemption is approved, you can make a reservation request for either Mission Bay Conference Center or Millberry Union Conference Center by emailing: Conference.Events(at)ucsf.edu.
Due to COVID-19, there are a few services changes that event planners should be aware of:
Services are limited to venue rental, event set-up, and break down.
Catering: Customers are responsible for arranging for catering service via a caterer on the Bear Buy/America-To-Go list.
Audio/video support: Customers must arrange A/V support from UCSF IT or UCSF Educational Technology Services (ETS).
For more information please go to the Conference and Events Services venues page.
Documents & Media
We are open to provide UCSF departments with design, printing, and other production services. The best way to reach us is by phone at (415) 514.2054 or email at DMcsr(at)ucsf.edu.
To learn more about how DM supports the University please visit https://tiny.ucsf.edu/print
Facilities Services
Building Access - Badge Access Required
Most campus building perimeter access points will require UCSF badge access effective March 16, 6am. Essential employees are in the process of being identified to ensure facility access. This does not impact UCSF Health facilities, which have a different process.
Badge access will help ensure the safety of occupants and will be in place until further notice. We will continue to update you as the situation may change in the future. For questions, suggestions or concerns, please contact Sean Aloise via email at Sean.Aloise(at)ucsf.edu.
Custodial Services
Because of the reduced campus building activities, the custodial team is performing other essential duties and those remaining in campus buildings are performing trash and sanitization duties only. If you have an urgent or special need, please contact the Customer Service Center at (415) 476.2021.
Work Orders
During this time of reduced staffing, only Priority 1 work orders (urgent, emergency, and critical to the mission) that require same day attention will be dispatched. If you have an urgent or special need that requires immediate attention, please contact the Customer Service Center at (415) 476.2021. All other work orders will be held in a queue until further notice when staffing returns to normal.
Family Services
UCSF Family Services is promoting various resources that may be helpful for UCSF employees with parenting and caregiving needs. Visit the COVID 19: Child and Dependent Care Resource page to learn more about UCSF and community resources. Available resources include the UCSF Child Care Referral Service, Sittercity, an online platform to search for child and elder care, an online Child Care Bulletin Board, on-site YMCA Learning Camps, and more.
Three of the UCSF Child Care Centers, (University Child Care at Mission Bay, Laurel Heights Child Development Center and Kirkham Child Development Center) are operating with reduced capacity and enhanced health and safety protocols.
Fitness Centers
Bakar and Millberry Fitness Centers are tentatively scheduled to open for UCSF faculty, students, and staff only on Monday, November 2nd.

We are following guidelines as set by the San Francisco Department of Public Health and additional safety measures approved by our own UCSF health and science experts.
All members may still continue to have their memberships on hibernation at no charge.
Virtual Fitness Membership
Not ready to come back to the fitness center? Stay motivated from the convenience of your home! A Virtual Membership provides access to:
• Group X Live (15+ classes a week)
• Group X On Demand
• Fitness Clinics
• Wellness Webinars
• Online fitness and health resources
Get more details on the Virtual Fitness Membership.
For more information on the fitness center opening, please go to this Fitness and Recreation web page. If you have any questions, please contact ucsf.fitness(at)ucsf.edu.
Housing
Some housing staff are on site: facilities, mail delivery, building access. Our mini fitness center is closed at Tidelands. Housing staff are accessible online, by phone, and email. Housing general info: (415) 514.4550, housing(at)ucsf.edu. The Housing Office site is closed.

Housing buildings are open to UCSF Housing tenants so that our tenants may shelter in place. If you are locked out, you may call our office, then we will dispatch staff to assist you. UCPD and Security Officers can assist you with after-hours lock out services, as usual, and may be reached at (415) 476.1414. For more information, visit our FAQ page.
Office of Sustainability
Our Sustainability staff are working remotely and wish to remind our UCSF community that these services are still available to you online and/or via remote:
Monthly newsletters and social media updates will continue.
Retail – Select Retailers Open
The health and safety of our retail tenant's employees and our customers are our primary concern. We are closely monitoring the health guidelines as well as business volumes and will post updates as the situation changes. Thank you for your patience. For more information, please visit the Retail Services website.
Transportation - Shuttle Service
All riders are required to wear a mask and refrain from eating or drinking while riding the shuttles.
To view schedules, please visit shuttles.ucsf.edu.
Wellness & Community
We have adapted our events and programs to be accessible in our virtual world! Please check the Wellness & Community website for our upcoming wellness webinars, programs, and contests for you to enjoy. And be sure to subscribe to our opt-in channel on the Official UCSF mobile app.

For current updates on UCSF's response to COVID-19, please visit: https://coronavirus.ucsf.edu/