UCSF's 2020 Carbon Emissions Fall Below 1990 Levels, Despite Increase in Square Footage
---
By Campus Life Services on September 10, 2021
---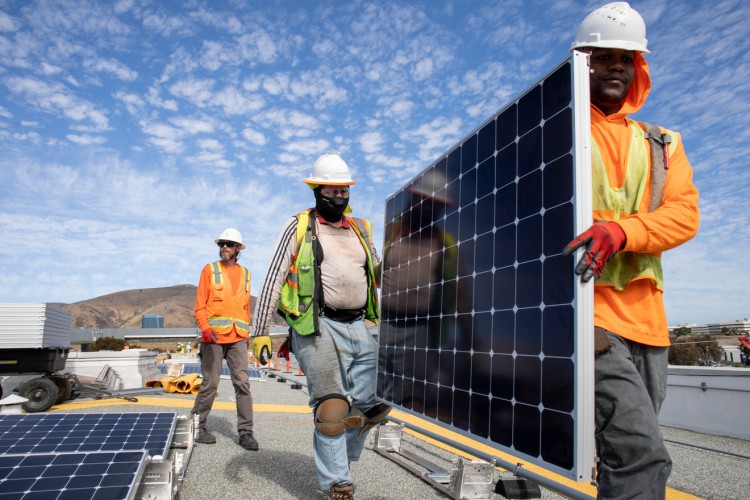 UCSF Office of Communications
In 1990, all UCSF locations – Parnassus Heights, the Mission Center Building, Laurel Heights, and Mt. Zion – totaled 4.5 million-square-feet. Fast forward to 2020, UCSF grew to 10.3 million-square-feet, with most of the expansion over the last 30 years in Mission Bay.
Despite this 128 percent growth in square footage, carbon emissions from operating UCSF health and campus buildings dropped by two percent or by two metric tons of CO2 equivalent (MTCO2e). CO2 equivalent is a metric measure used to compare the emissions from various greenhouse gases on the basis of their global-warming potential.
Newly constructed UCSF buildings are energy efficient and old buildings are also being renewed to increase efficiency.
"The UC System's goal is for all UC campuses to be carbon neutral by 2025," said Director of Sustainability, Gail Lee. "There is also an interim goal for all UC campuses to reduce carbon emissions back to 1990 levels, starting in 2020 and until the carbon neutrality requirement kicks in starting in 2025. Commute and business travel emissions are only included in the interim 1990 goals."
If campuses can't meet those two goals, Lee said, they must purchase offsets to make up for the difference.
Given highly efficient new and renewed buildings and nearly a 79 percent reduction in business travel in 2020 because of COVID-19 restrictions, UCSF did not have to purchase carbon offsets in 2020.
Several newly constructed UCSF buildings have or will open in 2021, increasing the university's square footage by at least another 1.12 million-square-feet to an estimated total of 11.4 million. With this growth, emissions associated with on-site operations in 2021 are forecast to surpass 1990 levels, though all new buildings are LEED Gold certified. On average, buildings that are LEED Gold certified are 20 percent more efficient than non-certified buildings.
The sluggish return of business travel and eliminated or reduced commutes given remote work for some UCSF employees will help temper UCSF's total carbon emissions in 2021.
A recent budget forecast anticipates UCSF Health and campus will pay an average of $156,000-per-year for carbon offsets from 2021-24. This is a modest amount given the size of the enterprise and reflective of UCSF's commitment to creating a sustainable campus.
"It's not possible for UCSF to meet the 1990 goals or become carbon neutral by 2025 without purchasing some carbon offsets, given UCSF's reliance on a co-generation plant at Parnassus Heights that efficiently serves the hospitals and campus for both electricity and steam used in sterilizers and building heat," said Campus Energy Manager, Ben Levie. "Unfortunately, the plant relies on natural gas to generate steam and electricity, though recently upgraded turbines at the plant have reduced natural gas consumption."
The carbon offsets are just that – an offset, not a direct reduction of UCSF's emissions, so the university is highly motivated to move forward with projects that reduce and eliminate natural gas combustion, which is the main source of greenhouse gases on campus. "But it takes time to do this in an integrated and sustainable way," Levie explained.
The UC System is in the process of shifting away from natural gas toward biogas. "Biogas is considered a form a renewable energy and will considerably reduce the amount of carbon offsets needed to become carbon neutral," said UCSF Energy Management Analyst, John Rosendo. "UC policy is to have at least 40 percent of the natural gas combusted on-site be biogas by 2025."
Rosendo said UCSF is committed to purchasing high-quality offsets that have been verified by a third-party and have completed a peer review process which is overseen by the UC Carbon Abatement Technical Committee. "Offsets can vary in quality, which is why UC has set up an evaluation process," he said.
An example of a high-quality offset is CO2Concrete, a California UC-initiated offset that converts carbon dioxide from power plants to concrete that is used for construction. A list of UC-initiated offsets is available at UCOP Energy Services.