UCSF Takes Steps to Save Water
---
By Robert Hood on July 26, 2021
---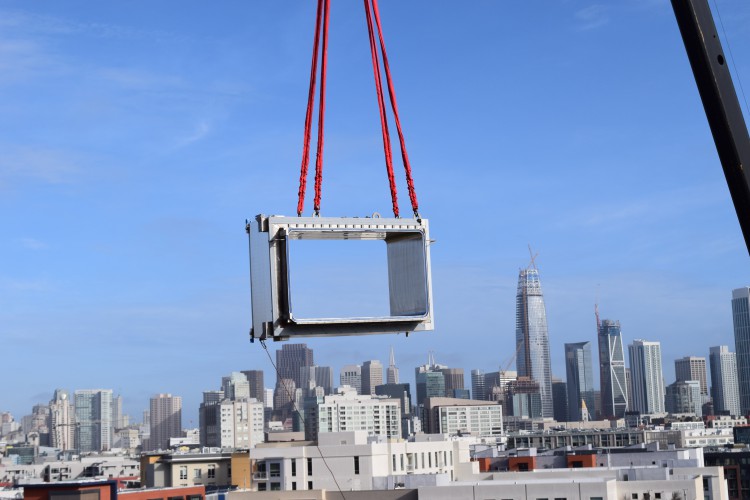 A new water-efficient steam sterilizer is dropped into Genentech Hall.
In the coming months, you may notice lawns around UC San Francisco developing a patchy look. Don't worry, the lawns are healthy but the landscape maintenance team at Facilities Services has reduced watering by 50 percent compared to last summer, in response to the current drought conditions.
Conservation Program Manager, Eli Perszyk, explained. "We met with the landscape team about the measures we could take to respond to the dry conditions, and they confirmed we could reduce watering without hurting our lawns," he said. "The use of drought-tolerant plants around UCSF has also helped conserve water, as has the use of artificial turf at UCSF Health's facilities at Mission Bay."
Perszyk said UCSF has additional short-and long-term programs to conserve water and increase efficiencies across UCSF. Since the price of water has increased by seven percent per year, these strategies are also cost-saving measures.
Perszyk has reached out to research labs asking them to replace old equipment with newer equipment that uses less water. Facilities Services is offering laboratories a financial incentive on water efficient equipment purchases and retrofits. This consists of a rebate based on water savings. Laboratories are responsible for purchasing and maintaining the equipment and equipment retrofits.
Ana Alvarado-Lopez, the glass wash and autoclaves facilities manager at Genentech Hall, saw significant savings by replacing old equipment (shown above). In the first month after replacing seven old sterilizers with new, water-efficient sterilizers, the lab saved more than 630,000 gallons of water and $13,000.
UCSF is also working with the City of San Francisco's Public Utilities Commission on a number of water consumption projects in UCSF labs. The SFPUC provided a $117,804 commercial equipment rebate to UCSF when the university installed two bulk steam sterilizers at Helen Diller. The new sterilizers save 12 million gallons of water per year.
In addition, Facilities Services has initiated a program to install 1.5 gallon per minute laminar flow restrictors on laboratory faucets. These restrictors are in the process of being installed and the project will be complete over the next year, across campus labs.
UCSF Health is also reducing water use in patient care buildings. For example, UCSF's Mission Bay Hospital has a system that recovers water condensed by its air conditioning system and uses this water to irrigate plants. The maximum recovery of water occurs on the hottest summer days when air conditioning units are working hardest.
At the Parnassus Central Utility Plant, which serves both campus and UCSF Health buildings on the Parnassus Height Campus, a new system collects rejected water from the water purification process and repurposes it in the plant's cooling towers. This saves an estimated three to four million gallons of water per year.
These and other projects undertaken in previous years have enabled UCSF to reduce its water consumption by 53 percent below the baseline year 2007. This is 17 percent ahead of a target set for UC campuses across the system.