Latest Campus Housing Expansion Welcomes UCSF Faculty
---
By Robert Hood on December 01, 2020
---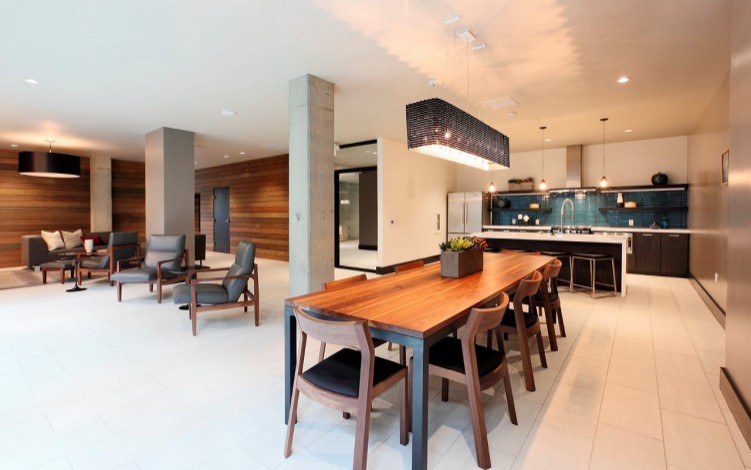 Thanks to a generous gift from a donor supporting UC San Francisco's faculty recruitment and retention efforts, UCSF Housing Services will open a 71-unit apartment building near the Mount Zion campus this summer (2021). This housing project is also part of the first phase of an ambitious housing plan that UCSF committed to deliver to accommodate growth associated with Parnassus Heights Campus.
Known as 'Mount Zion Housing,' this modern complex features 62 two-bedroom units, eight one-bedroom units, and one three-bedroom unit. On-site parking, in-unit laundry, and a fitness room are some of the amenities. The building is within two blocks of UCSF's Mount Zion campus, and the university's nearby shuttle stop offers convenient connections to Mission Bay, Parnassus Heights, and other campus sites.
"As the University continues to grow, especially in tandem with the Comprehensive Heights Plan, we are delighted that Mount Zion Housing will warmly welcome faculty," explained Leslie Santos, assistant vice chancellor for housing and wellbeing services. "Until now, most of our housing inventory was designed for graduate students and trainees. Faculty have expressed interest in living on campus, especially newly appointed faculty arriving for the first time in San Francisco. We're pleased that the unit types and amenities at 2130 Post reflect what faculty have told us they would like."
The university has been making minor structural and facility improvements since the property was donated. Housing Services plans to start accepting lease applications for Mount Zion Housing starting in February 2021; current plans are for the complex to open late-June 2021.
Although the new building prioritizes housing for UCSF faculty, staff (including trainees on staff) may apply to live there as well and will be accommodated pending availability. Those interested in campus housing, including Mount Zion Housing, are exempted from providing a security deposit, undergoing a credit check, and paying an application fee. "We realize that living in San Francisco is expensive and we want to lower barriers for our students, trainees, faculty and staff to find a great place to live, such as by not requiring costly deposits," elaborated Santos.
Another benefit available to campus housing tenants—including those living at Mount Zion Housing—is that they can live on campus for up to five years. Until recently, campus housing tenants had to leave after a two-year term limit, since campus housing was in short supply. In early 2021, Housing Services extended terms to five years, as new campus housing supply was added as part of UCSF's strategic plan.

Specifically, when the Tidelands near Mission Bay opened in late 2019 UCSF's campus housing inventory nearly doubled. Todd McGregor, director of Housing Administration, said the extended term is also possible because more housing is forthcoming. "Along with the opening of the new Mount Zion housing this summer, we have 230 units designated for the UCSF community under construction at the UC Hastings development that will open in 2023 and more units are planned closer to the opening of the new hospital at UCSF Helen Diller Medical Center at Parnassus Heights."
For more information including rental rates, floor plans, photo gallery, and application form are available on the Mount Zion Housing website. The full collection of campus housing options is available from Housing Services website.