UCSF Pests Beware: Ronda Metcalf is on Your Trail
---
By Robert Hood on April 13, 2021
---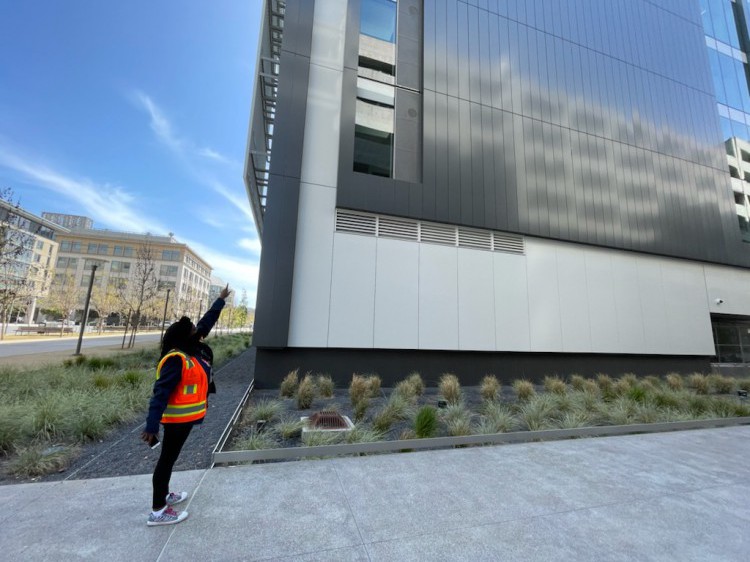 Whether you are a portly pigeon or crafty rat, if UC San Francisco Pest Control Program Coordinator Ronda La Che' Metcalf is on your trail, you're a dead duck.
"She's not scared of new challenges," said UCSF Landscape & Grounds Program Manager, Morgan Vaisset-Fauvel. "You can find her doing rooftop pigeon inspections (as shown above) and crawling into the darkest spaces to inspect rodent activities. She is quick to jump on pest control emergencies and to support our customer's concerns."
And while most people would shun crawling in the dark under buildings looking for rats or climbing rooftops to remove pigeons, Metcalf loves the work. "It's a great field to work in," she said. "We have such a variety of pests around our UCSF structures."
This includes American cockroaches, mice, ants, roof rats, raccoons, pigeons, and bed bugs. Roof rats? What is a roof rat? It is a common black rat, also known as a ship rat, that gets its name from its tendency to find shelter in the upper parts of buildings. "These species are usually our friends that we run into," Metcalf said. "Who knows what will be next, but whatever it is, my team will be ready to respond and eradicate!"
Metcalf didn't follow a traditional career trajectory. "I spent 13 years at AAA Automobile as a service representative and left as a claims clerical supervisor in 1998," she said. This was followed by a seven-year stint working as a program coordinator at a San Francisco non-profit providing academic, science, sports, and nutritional programs for students from kindergarten through middle school. When funding for the program ran out, she joined UCSF's Temporary Employment Program (TEP) where she was assigned to work in Facilities Services under the leadership of Zachary Quan. She became a permanent UCSF employee in October 2006.
"What I like about UCSF is the opportunity for growth," Metcalf said. "Employees are encouraged to cross-train and take external training courses. They are also supported when attending school to obtain degrees."
In 2014, while working full-time, Metcalf completed two associate degrees and never missed a day of work. "I am very proud of myself. It took a lot of patience, prayer, endurance, and hard work, considering I had just put my only son through college as a single-mother. Together, he and I have a total of five degrees in our home. He has made me very proud. His work ethic is like my own. We work hard, we commit, and remain consistent. We are committed to progress."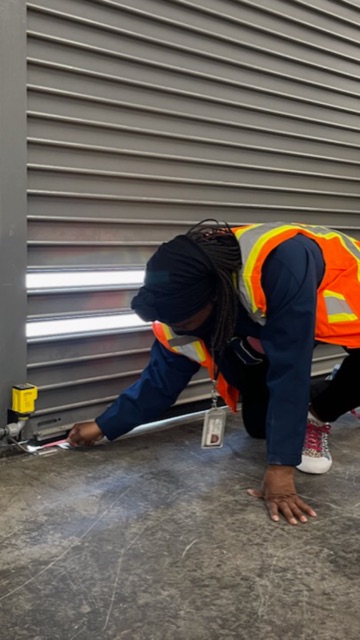 In addition to feeling supported while she pursued her education, Metcalf said she was provided opportunities as a woman employee working at Facilities Services. "We are a very diverse bunch," she said. "We come from different cultures, backgrounds and mindsets. We often see the world differently, but when it comes to working hard and achieving our goals, we come together to meet, share, coordinate, train and advise one another on meeting and setting new goals."
She said women are working at all levels of Facilities Services. "We run meetings, make decisions on the front line and work in the field," she said. Metcalf said women in the organization have earned the respect of their male counterparts. "We are here and we have earned a place to shine and make a difference in creating a professional world where men and women can all exist."
Facilities Services Director Adam Schnirel said Metcalf is an excellent communicator and sets her customers at ease, no matter how nasty their pests. "She works quickly to address issues and explains in basic terms how the problems will be remediated," he said. "When dealing with pests, many people are not happy to begin with. Ronda provides common sense solutions and makes sure her customers feel safe and comfortable."