UCSF Optometrist Has Role in Historic Chinatown Play
---
By Robert Hood on January 24, 2019
---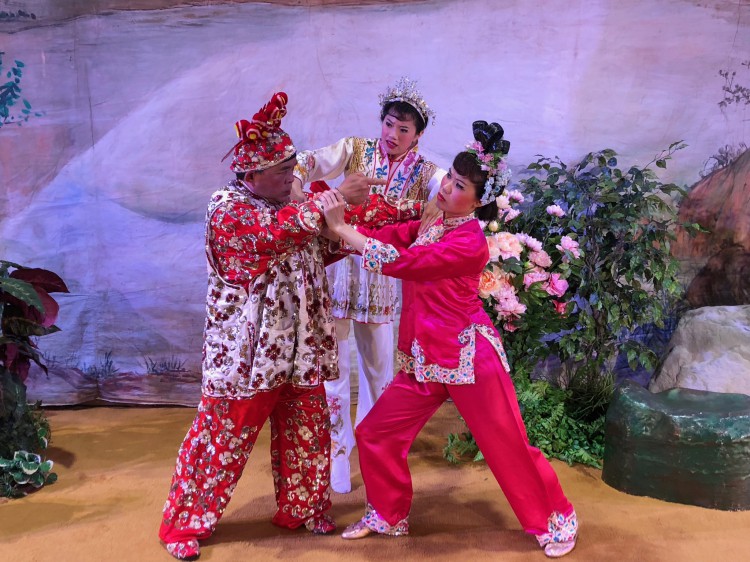 Submitted by Daphne Chan (far right)
UC San Francisco employees can save 50 percent on tickets for select dates to "A Change of Heart" and support a pair of UCSF actresses at the same time.
Associate Chief of Optometry in the Department of Ophthalmology, Daphne Chan, is playing the role of Chan Jeurn while Christine Yee, the former head of security at UCSF, plays Madam Wong, a feisty busybody with a penchant for mischief.
"I would recommend our show to members of the UCSF community because it is a family-friendly and unique theatrical play," Chan said. "It's a special way to celebrate the upcoming Lunar New Year. They are a glimpse into the Chinese culture and a taste of the traditional Chinese opera, with authentic costumes, intricate hair-dos, and a celebratory Chinese New Year dance at the end."
The play has been performed in Chinatown since the 1950s and Chan has had a speaking role since 1992 when she was just 4.5-years-old. "Back then, I only had four lines and played Herng Herng, the child abandoned by the mother in pursuit of a wealthy life. Things come full circle – this year I've been coaching the young children who play that role, and it's been so much fun. I even remember the lines from 27 years ago!"
The play follows two families who face events both dramatic and comical. It features a mother who favors riches over her own children and a wayward heir with excessive gambling debts.
"I first became involved in acting because it was a family affair," Chan said. "My father, also an optometrist, had speaking roles when he was younger and is now one of the two narrators of the play."
As for Yee, she's been acting since the inception of the plays 50+ years ago and has a cult following. "Her mere presence on stage will induce applause—even before she does anything!" says Chan.
The play is held at the historic Buddha's Universal Church at 720 Washington St. in Chinatown. Chan said it's a beautiful building that was hand-built by congregation members in the 1950s. The venue now contains a 200+ seat auditorium that is used for theatrical plays. "During intermission, audience members are encouraged to go upstairs to the rooftop garden, where we have a cutting of the original Bodhi tree under which the Buddha attained enlightenment 2,000+ years ago in India. It's kept alive with underground heating and lots of love and attention."
During intermission, home-baked cookies are sold for a $1 donation. Chan said cookies were sold across the country in the past to raise funds to build the church. The motto was "from cookies to concrete to church."
To purchase tickets or learn more about "A Change of Heart" visit CostumesAndCookies.com. UCSF faculty, staff and students can save 50 percent on tickets by using the promo code UCSF for the following dates: Saturday, Feb. 2; Saturday, Feb. 16; Sunday, Feb. 17; and Sunday, Feb. 24.