UCSF Fitness Centers Play a Big Role in the Fitness Journey of Alesia Woods
---
By Robert Hood on May 10, 2021
---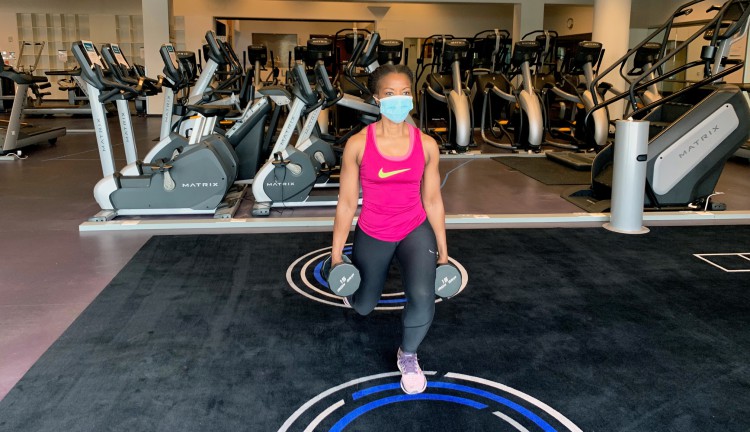 Megan Gonzalez
As the Associate Dean of Administration and Finance in the School of Pharmacy, Alesia Woods oversees the school's communications, compliance and purchasing, finance and operations for the oldest school of pharmacy in the West. But when Woods needs a break, she heads to the UCSF Fitness Center for her regular workouts.
"UCSF Fitness and Recreation has played a huge role in my fitness journey by providing state-of-the-art equipment and a plethora of fitness classes," Woods said.
She is looking forward to the fitness center reopening and getting back to her regular workout routine. The Bakar Fitness & Recreation Center at Mission Bay and Millberry have both been closed since the beginning of the pandemic in March 2020, with the exception of a brief three-week reopening in November before the second COVID surge. Bakar will reopen to UCSF students and employees on Tuesday, July 6. Millberry is expected to reopen later this summer.
"During the fitness center closure, I've missed maintaining my healthy lifestyle," Woods said. "The gym has always been a big part of my fitness regime. I also miss seeing the friendly faces of staff as I enter the front doors."
And when the doors finally open to the fitness center, Woods will head straight to a treadmill and the cross-cable machine for some cardio and a solid upper-body workout.
"I have a love-hate relationship with the treadmill," Woods said. "One of my favorite workouts is running on the treadmill followed up with a free-weight workout. I enjoy the treadmill for a quick cardio workout. Because it doesn't have a scenic view like outdoors, it often takes five to eight minutes to warm up while running, which is a struggle when getting started; however, I always feel good afterward."
Woods is also looking forward to once again seeing familiar faces at the gym. "My fitness and recreation community motivates me during my workouts with their commitment to consistency - seeing them at the gym each time I'm there," she said. "One of my many favorites memories from the fitness center is the holiday seasons of decorations at the front desk."