UCSF Facilities Services First Impressions Contest Returns – With a Twist
---
By Robert Hood on April 16, 2021
---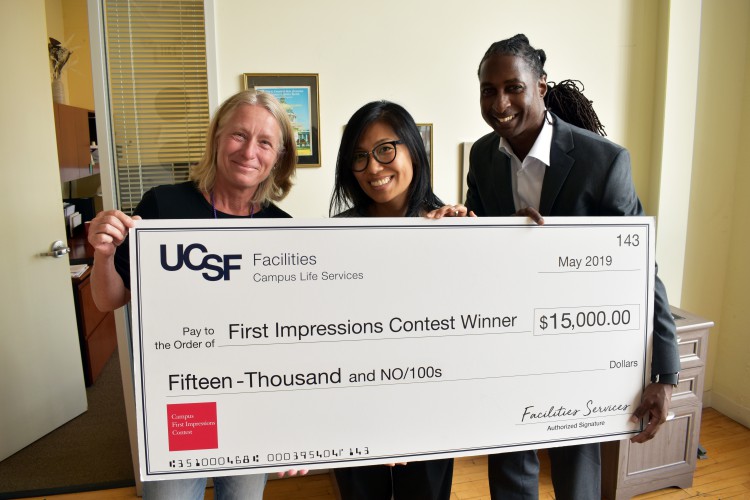 After a year's hiatus due to the COVID-19 pandemic, the popular Facilities Services First Impressions Contest returns this year with a twist.
The 2021 First Impressions contest will be limited to employee break and eating spaces. It will run May 1 through June 30 with the winners announced in early August. The contest is open to all UC San Francisco faculty, staff and learners. A total of ten projects will each receive up to $15,000 to help transform these common spaces.
In its first three years, the First Impressions Contest has transformed 36 campus eyesores into inviting spaces that enrich the working environment at UCSF.
Examples of past projects include landscaping common spaces or sprucing up entrances to buildings, upgrading restrooms, renovating student lounges, and otherwise creating more inviting public spaces around campus. Entries with a high degree of public visibility will receive priority. Past projects like this include the School of Nursing mezzanine, the entrance to Parnassus from the Irving Street MUNI stop, and the entry to the UCSF Dental Center.
"We have been amazed by the interest and creativity expressed in the contest since we launched four years ago," said Assistant Vice Chancellor for Facilities Services, Jon Giacomi. "Some departments make funny, but enlightening, videos in their contest submissions. This year, we want to prioritize projects that serve our employees, which is why we're focusing on the shared break and eating spaces."
A committee representing various departments will choose the 2021 winners. Submissions should be sent via email to .(JavaScript must be enabled to view this email address) and can include photographs or video showcasing the need for upgrading the employee break and eating spaces.