UCSF Exclusive Access to "Hamilton" Tickets at SHN
---
By Robert Hood on September 05, 2018
---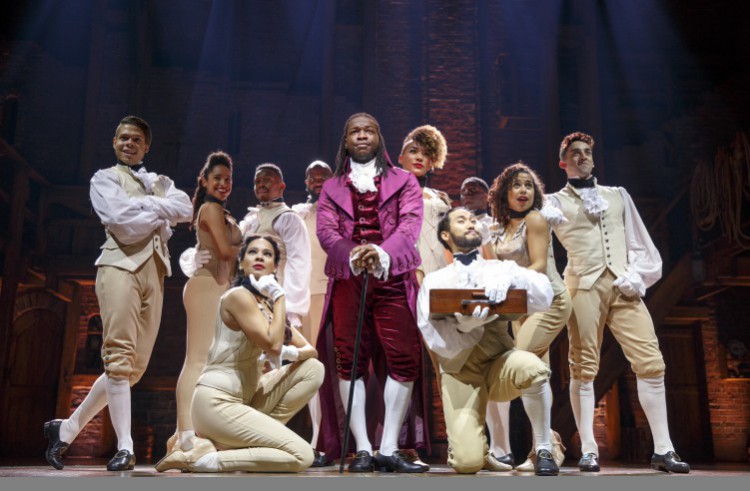 Joan Marcus
UC San Francisco theatre lovers can enjoy exclusive access to Hamilton tickets at the SHN Orpheum Theatre thanks to a special offer from UCSF Wellness & Community.
Beginning Monday, Oct. 8 at 10am., UCSF students and employees can purchase up to four tickets for the Wednesday, May 22, 2019 performance of Hamilton at the SHN Orpheum Theatre.
"I'm delighted that the UCSF community will have a chance to get tickets for this performance prior to when general admission sales are open," said Jennifer Mannix, manager of Wellness & Community.
A link to purchase tickets will be available at the Wellness & Community website on Monday, Oct. 8 at 10am. Tickets will be sold with a promo code for UCSF and will remain on sale through Sunday, Oct. 21.
Ticket prices will be:
• Premium Orchestra/Loge: $686
• Regular Orchestra, Side Loge, Full Mezzanine: $214
• All Balcony: $111
Hamilton is a musical about the life of American Founding Father Alexander Hamilton. It incorporates hip hop, R&B, soul, and traditional-style show tunes to tell the story of the Founding Fathers and other historical figures. In 2016, Hamilton received a record-setting 16 Tony nominations, winning 11, including Best Musical.
The SHN Orpheum Theatre plays host to many of the great Broadway productions. The 2,200-seat theatre located at the corner of Market and 8th streets, was originally opened in 1926 and is one of the city's historic landmarks.