UCSF Community Changes Commute Habits in Response to Increased Traffic
---
By Robert Hood on February 27, 2018
---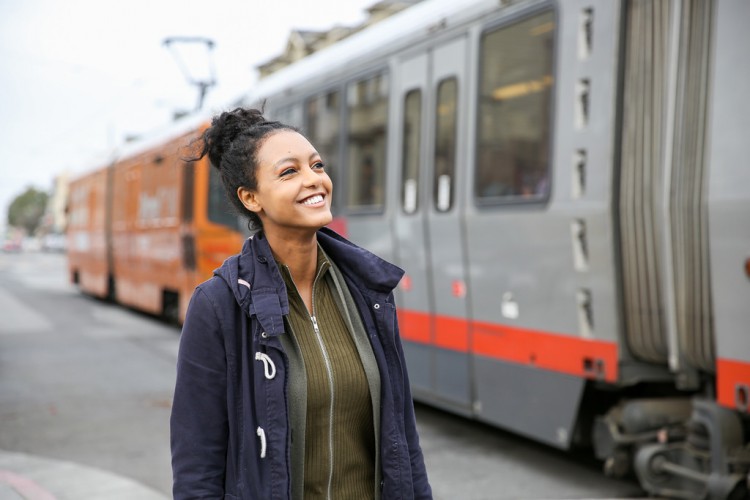 Fewer UC San Francisco employees and students are driving alone to campus according to results from the university's annual Commute Survey conducted by Transportation Services.
Results from the 2017 Commute Survey showed the drive alone rate fell from 30.1 percent to 26.1 percent, which corresponds to having 984 fewer cars driving to and from campus each day. "It's the largest drop in the drive-alone rate that we've seen since we began administering this survey in 2011," said Erick Villalobos, director of Transportation Services for UCSF.
This is the second consecutive year that survey responses showed more employees and students reach the university via public transportation (32.8 percent) than alone in their vehicles (26.1 percent). Survey results also showed a noticeable uptick in the walk/bike rate, from 15.3 percent in 2016 to 16.7 percent in 2017.
Villalobos said the survey also asked respondents to report days on which they fully avoid a trip to campus by telecommuting. In 2016, the UCSF population reported telecommuting 1 percent of the time – or three days out of the work year. In 2017, the percentage of telecommute days increased to 2.3 percent – or six days out of the work year.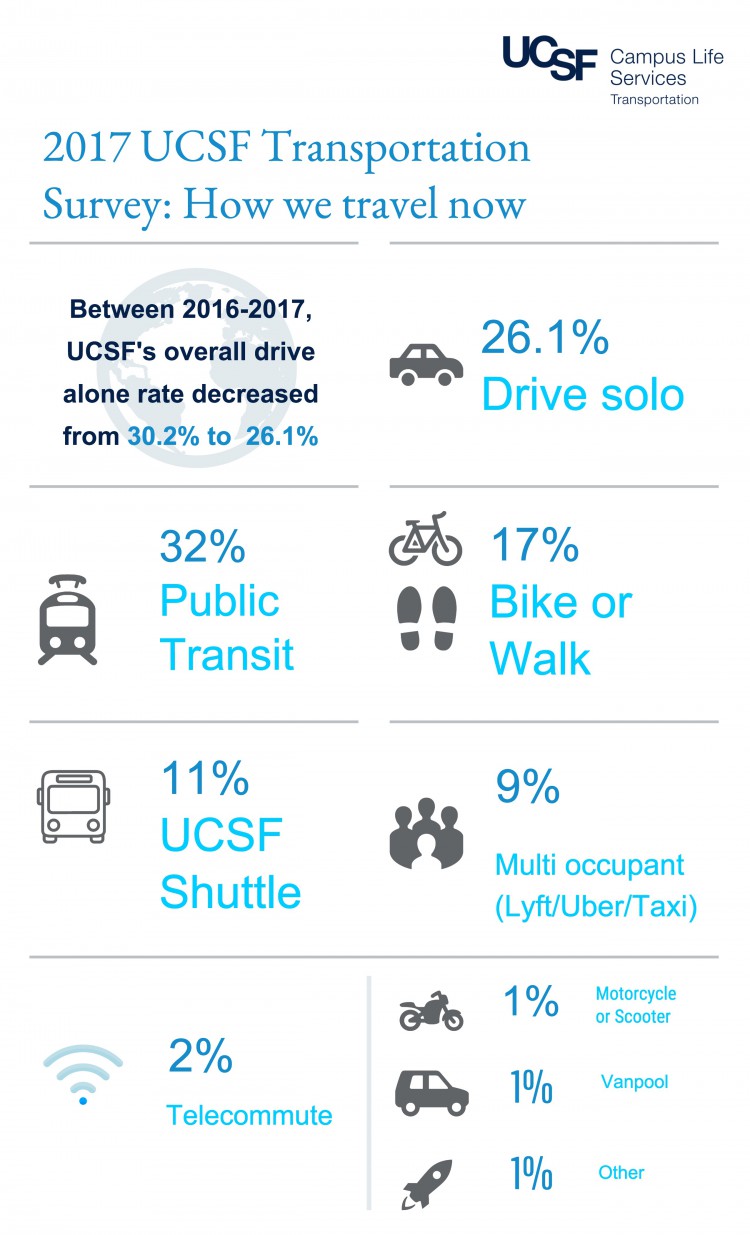 "Over the past year, Transportation Services has been actively promoting the benefits of telecommuting by issuing campus alerts in advance of days when significant traffic snarls are expected," said Dani Cambier, a project manager in Campus Life Services who is leading the Construction Impacts Communications initiative. This is an initiative that alerts the UCSF community of significant disruptions, such as to their commutes, given road closures and detours as a result of construction activity.
"Getting cars off the road not only improves traffic, it lowers UCSF's carbon footprint," said Gail Lee, UCSF's director of sustainability who is leading the university's campaign to be carbon neutral by 2025. It's estimated that an average commuter vehicle emits 4.7 metric tons of carbon dioxide (C02) a year. As such, a reduction in UCSF's drive alone rate from 30.1 to 26.1 percent eliminates an estimated 2,595 metric tons of CO2 per year."
"It won't surprise the UCSF community to learn that San Francisco ranks as the fifth-worst city in the world in traffic congestion, according to the INRIX 2017 Global Traffic Scorecard," said Clare Shinnerl, Associate Vice Chancellor of Campus Life Services. "And judging by all the construction cranes in the city, especially around Mission Bay, traffic is only going to get worse."
To help provide commuters better options, UCSF is influencing several Bay Area transportation improvement initiatives, often in tandem with organizations like the Bay Area Council and other large employers concerned about traffic congestion. "The city's effort to build the 16th Street ferry landing is an example of an improvement initiative that UCSF is hopeful will materialize by 2021," said Kevin Beauchamp, director of physical planning at the university. A brief description of the project along with a timeline is on the Port of San Francisco website.
Villalobos said he's also encouraged by survey results that show increased use of hybrid or electric vehicles.
"Approximately 20 percent of our parking users are driving hybrid or electric vehicles. This demonstrates the continued adoption of vehicles that are much more environmentally friendly with either low or zero emissions. By contrast, in 2011, only 2 percent of respondents reported using hybrid or electric vehicles."
Transportation Services has launched several new programs to help the university community explore different transportation modes. "The new MyCommute.ucsf.edu portal is a one-stop portal to help our community connect with carpools, vanpools and mass transition options," Villalobos said. "We have also introduced Edenred as our new partner for commuter benefits to use pretax dollars and save money on mass transit or parking expenses."
This year's survey had 5,261 responses including 974 students. Approximately 55 percent of respondents commute from San Francisco, 25 percent from the East Bay, 13 percent from the South Bay and 7 percent from the North Bay. The top commute destinations remain the Parnassus and Mission Bay campuses.