UCSF Children Supply Artwork for Chancellor's Suite
---
By Robert Hood on January 08, 2021
---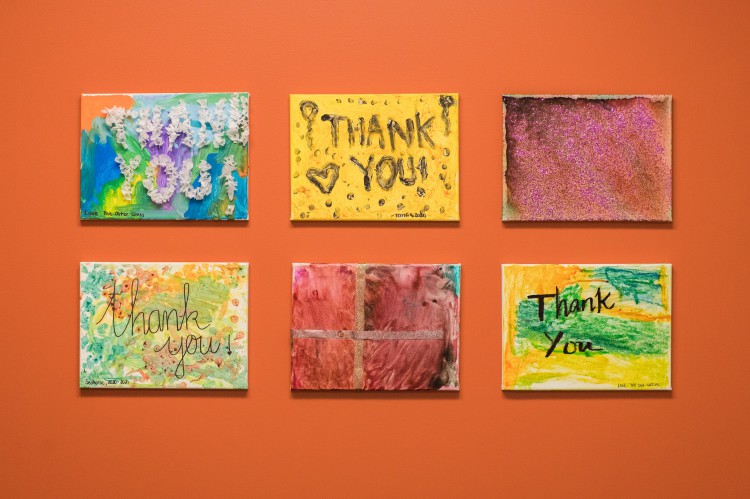 Robert Hood, Campus Life Services
When UC San Francisco leaders are able to gather again in the conference room inside the Chancellor's suite at Mission Hall, they'll be greeted by six lovely "thank you" signs created by the children who attend the Kirkham Child Development Center.
The preschool children created the artwork to show their appreciation to UCSF Chancellor Sam Hawgood and his leadership team for their continued support of the university child care centers during COVID-19. The project was organized by UCSF parents in appreciation.
"Leadership's support of the child care centers has been critical in supporting UCSF's health care workforce," said Director of Family Services, Laura Ishkanian. "There are approximately 400 UCSF parents currently served by the child care centers, and the majority are health care providers. Having a safe, consistent environment for their children has been vital for them to work throughout the pandemic."
Lekshmi Santhosh, M.D., M.A.Ed., assistant professor of Clinical Medicine, who specializes in pulmonary and critical care medicine, said she can't imagine how difficult and challenging her year would have been without the UCSF child care centers.
"In fact, I do not have to 'imagine' – I see the difference in my colleagues who do not have access to child care, and literally every day I am incredibly grateful and thankful to have our child care centers open," Santhosh said. "I think it's remarkable that we have had so few COVID cases among workers over the last nine months in our child care centers, and I know the strict protocols and careful messaging have helped keep this up."
For Michelle Mourad, MD., professor and vice chair of Clinical Affairs and Value in the Department of Medicine, as the implications of the pandemic became clear, it quickly became apparent that her workload was going to increase dramatically. "I was suddenly pulled into meetings at all hours of the day, and frantically answering emails in my other waking hours. The frenetic pace and steady stream of urgent and critically important work were unlike anything I had experienced in my academic career," she said. "The real saving grace during this time is that I still had amazing, reliable, convenient and safe child care."
Mourad said Bright Horizons rapidly adapted to new safety policies, class sizes and distribution of children across UCSF's campuses. "I can't tell you what it meant to our family to have that consistency," Mourad said. "I know that I wouldn't have been able to devote the time and energy to UCSF and to our patients without it. Having ongoing child care was a complete lifesaver and kept me sane."
Raman Khanna, MD, MA, associate professor of Clinical Medicine, Division of Hospital Medicine, said his twins benefitted enormously from their ability to attend school. "During the incredibly stressful spring, summer and fall, the Bright Horizons centers, and in our case the Kirkham Child Development Center, have been a life-saving resource for so many of us."
Khanna and his spouse are both UCSF physicians, so the availability of child care was even more important. "It preserved the ability for both of us to continue to shoulder both an academic and clinical load, including, for my spouse, working in the COVID and non-COVID intensive care units, without tremendous stress and burnout."
Many child care centers closed in the early months of COVID, Ishkanian said, while UCSF's centers remained open. This wouldn't have been possible without the support and commitment of UCSF's leadership. "The artwork is a small token of appreciation from UCSF families," she said.