Twelve Projects Chosen in Second Annual Campus First Impressions Contest
---
By Robert Hood on April 25, 2018
---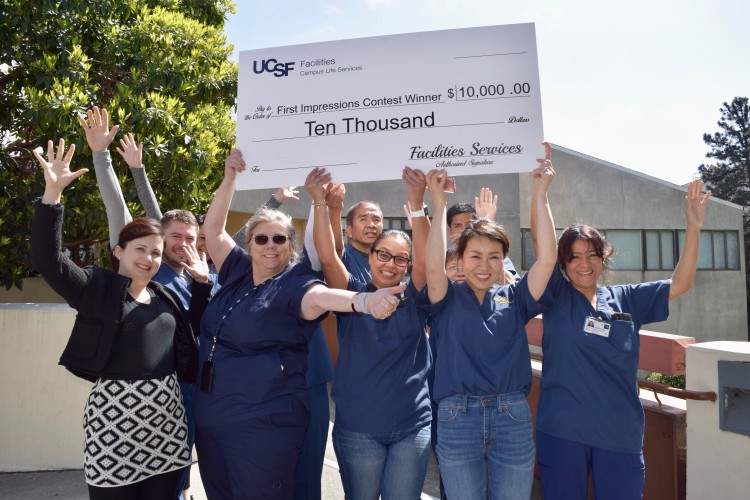 The UC San Francisco Dental Center lobby/entryway and School of Nursing student lounge are among this year's winners in the Campus First Impressions Contest sponsored by Facilities Services.
A 14-member committee chose 12 winners from a list of 50 campus submissions. Each of the winning projects will receive up to $10,000 to upgrade the space. Projects were judged on their overall impact and feasibility. They were limited to public spaces that would make a significant first impression for students, staff, faculty and visitors.
Jon Giacomi, assistant vice chancellor for Facilities Services, said the committee had some difficult choices as many worthwhile projects were submitted. "Like last year's contest, the campus response to this year's Campus First Impressions Contest was amazing. The committee chose projects that will have a real impact around campus. This contest is a wonderful partnership between the campus and Facilities Services and is an opportunity for students and employees to express their opinions."
The winning projects include:
• Millberry Union G Level
• MU West stairwells B1 – P8
• School of Nursing lounge
• School of Nursing hallways
• UCSF Dental Center Student Clinic waiting room
• UCSF Dental Center's Parnassus building lobby/entrance
• HSW/E lactation rooms
• Aldea San Miguel entrance
• UCSF Dental Center's Buchanan Clinic entrance/reception area (photographed above)
• MCB lobby
• MCB fifth floor common area and toilet anteroom 5T2
• WEID Station at Mission Bay
Melissa Telli, director of marketing & strategic relations for the UCSF School of Dentistry, submitted the proposal to update the lobby of the UCSF Dental Center's Parnassus location. "Because the building is so busy, I thought it would maximize the impact of the First Impressions dollars," Telli said. Telli said 707 Parnassus is the Dental Center's largest location and receives more than 95,000 patient visits annually. "The entryway was chosen because it is what our patients first encounter when they show up for appointments, so we want it to look as nice as possible."
Telli said the project will also help students, staff and faculty feel better about their environment. "Hopefully it will strengthen the sense of pride they have in the Dental Center and School of Dentistry. It will also be a symbol of the positive changes being made in the building."
Nursing student Iva Petrovchich submitted an entry for the School of Nursing lounge. "I started in student government as soon as I entered UCSF, and one of the recurring action items was always to fix the space for future students. It was a goal passed down endlessly with no real path forward. It's the only nursing student-specific area, and therefore carries a lot of weight for us. It's where we have lunch, study for classes, and generally go to find one another."
Petrovchich said she is energized to work with Facilities Services to remake the space. "My hope is that the first impression for next year's new students is that they have their own safe space that is on equal footing with their peers in other UCSF tracks."
Some of her ideas to remake the space include adding art celebrating the contributions of nurses of color, adding lockers, and creating a functional study space. "I am very thankful that we won this and look forward to the changes to come."
The School of Nursing hallways will also be transformed with color, benches, and greenery. Michele Keating, a project policy analyst with the School of Nursing, said the hallways were chosen for the contest because they are the gateway to the School of Nursing offices and students, faculty, staff and guests are regular passersby. "Having a splash of color, some benches for seating, and adding plants will truly welcome people to the School of Nursing," Keating said.
Giacomi said work on the projects will begin immediately.