Three Women Supervisors Thrive in UCSF Facilities Services
---
By Robert Hood on January 06, 2021
---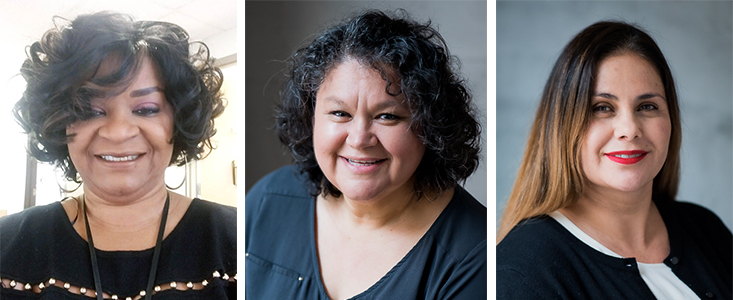 What's it like being a woman supervisor in a field like facilities services? We recently sat down with Sonya Harris, Elia Camacho and Marielena Contreras to talk about their experience. All three women are assistant superintendents in custodial services and between them supervise more than 90 custodians.
"As both a minority and a woman, it was challenging at first to supervise a large group of custodians," Harris said. "When I first came to UCSF, I was trying to be strong, but I had to get to know the people and how they do things. I had to soften up. I wore suits every day, but I eventually learned to relax and allow people to get to know me and accept me for who I am."
Contreras said she had to make some significant adjustments coming to the university from the private sector. "In the private sector, working in facilities was a man's world," she said. "Women weren't involved in decision making. When I arrived at UCSF, there were several women leaders already on staff and they provided a support network. It was very empowering to see that. The university is doing a great job and there are women leaders who I can look up to."
Camacho started her career as a housekeeper when she was 18-years-old. She later worked as an office assistant in human resources before taking a job at David Grant USAF Medical Center at Travis Air Force Base. She then moved to UC Berkeley where she worked as a custodial supervisor before becoming an assistant superintendent at UCSF.
Camacho said it means a lot to her to be a female supervisor. "UCSF has given us the opportunity to work equally with men."
Harris said the idea of men and women working equally at facilities services isn't just lip service. It's illustrated in meetings. "We can give our opinions on various topics and everyone listens. It's not frowned upon. They accept good ideas whether they come from a man or a woman."
Contreras said when she or any of her female colleagues come up with a good idea, they are often asked to lead it. "It gives us an opportunity to learn and grow. We have access to upper management and can talk to anyone about our ideas and they will listen and help us."
Harris said the entire facilities services team supported her when she had a stroke in the spring of 2019. "I was on vacation and had the stroke when I went to sleep one night. I woke up and the world was a different place."
She learned quickly that Facilities Services Director Billy Reynoso, Interim Assistant Director Felipe Rubio and Superintendent Juan Ayala were there to support her. "They provided a great support network," she said. "I didn't feel like I was thrown away. They gave me a chance to fully recover."
At one of the low points in her recovery, Harris received a card from Assistant Vice Chancellor Jon Giacomi. "He provided a lot of encouragement and that really meant a lot to me and helped in my recovery."
Contreras said women considering a job in a male-dominated field should go for it. "You can change the world," she said. "We're evolving as a society. Trust yourself."
Harris said anybody who wants to step into a leadership role needs as much training as possible. "Not just custodial training but also management training. You have to deal with people and their issues. You have to be compassionate and you have to be able to talk to people and deal with their problems. Supervisor training and job shadowing are important so you can really see what it's like to be a supervisor."
Camacho said it's important to always be prepared so that when the opportunity presents itself, you are ready to take the lead. "I always recommend that people working in facilities complete the Certified Environmental Services Executive Certificate."
Finally, Contreras said women who want to become a supervisor in a male-dominated field such as facilities services should simply trust themselves. "Go for it. Don't stop. There's no reason you can't do it."