Third Street Garage Transforms Into "Cellular Origami"
---
By Robert Hood on June 19, 2019
---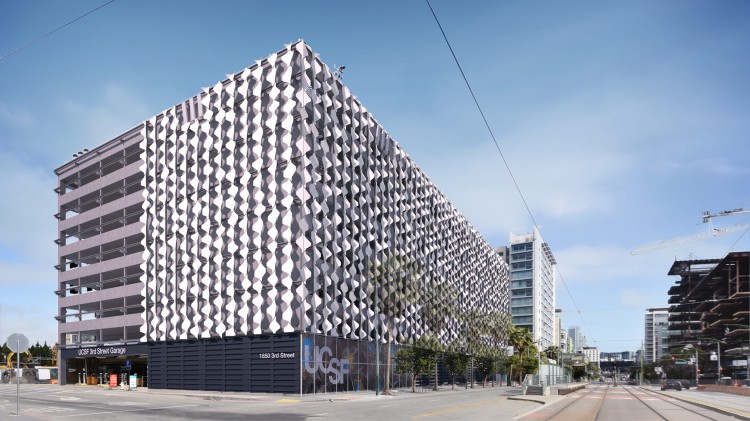 UC San Francisco's Third Street Garage across from the new Chase Center will soon be transformed into a visually stimulating anchor structure, complementing the rapidly changing Mission Bay neighborhood and amplifying UCSF's scientific brand.
Construction begins this June to install a series of large metal panels which reflect an artistic variation of the double-helix structure of DNA. They were designed by Potrero Hill architectural firm IwamotoScott and will be called "Cellular Origami." IwamotoScott's design was selected by UCSF following a design contest held last year. The concept derived from the double helix is shown in the sketch below.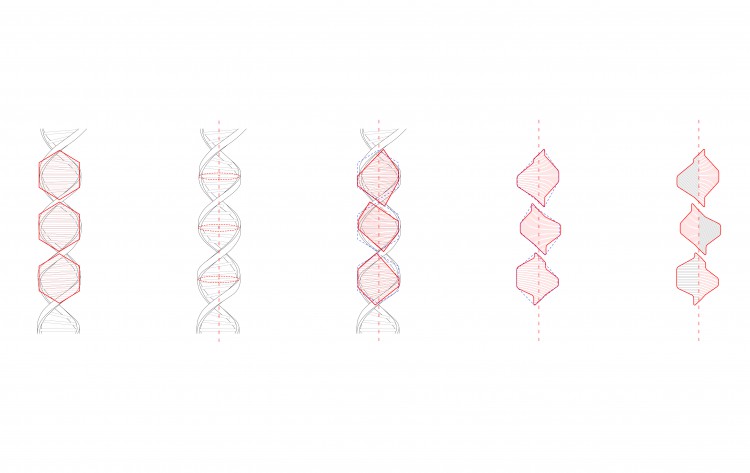 "Each vertical strand of 'petals' will be fabricated using large aluminum panels that will have an elegant silvery-white finish," explained Don Rudy, deputy campus architect. "Designed to provide visual interest that reinforces the UCSF brand and campus edge, it will reflect the light and colors surrounding the garage, including the nighttime activities anticipated from the Chase Center."
The previous garage facade was removed in 2015, and since then, the garage, which is located in a prominent location on Third Street directly across from the Chase Center, has looked barren.
"The new design intends to stimulate the curiosity of passersby, and, correspondingly, amplify UCSF's brand," said Clare Shinnerl, senior associate vice chancellor, UCSF Campus Life Services. "The design is also intended to improve wayfinding and the parking experience on campus."
According to Christine Omata, assistant director of brand communications for UCSF, a unique cellular image of a cow's lung will hang below the metal panels on the ground floor along Third Street to add color and reflect UCSF's excellence in science. The photograph (shown below), called "Endothelial Cells", was taken by Torsten Wittman, PhD, professor in the UCSF Department of Cell and Tissue Biology. It was the winner of the 2015 Sci-Resolution Photo Contest.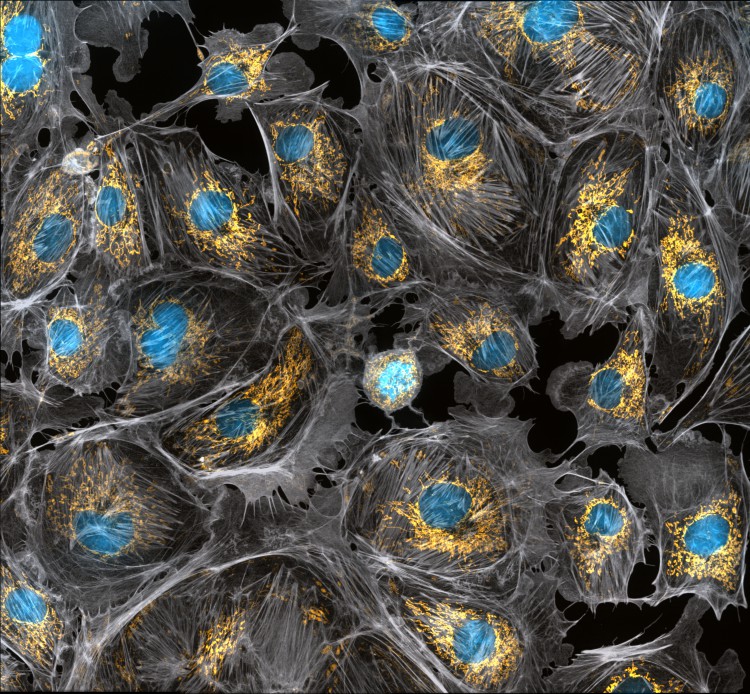 The new panels and photograph along Third Street should be fully installed by the first week of September. The north and south-facing panels will be added shortly thereafter. There are also plans to brighten up the parking lobby interior with captivating scientific photos.