Rent a Kayak or Paddleboard and Enjoy the Bay
---
By Robert Hood on March 01, 2021
---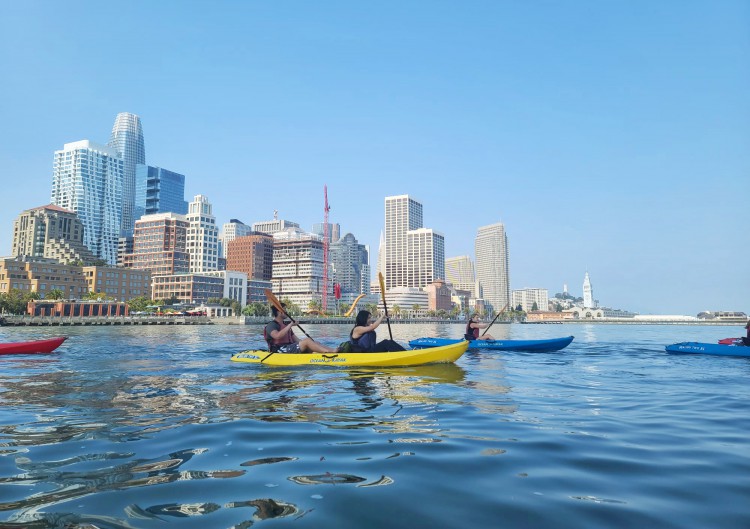 UC San Francisco employees can enjoy the San Francisco Bay from a different perspective thanks to an exclusive rental opportunity provided by Fitness & Recreation.
UCSF employees get 50 percent off kayak and standup paddleboard rentals on Wednesdays, Thursdays and Fridays at 3, 4 and 5pm during the entire month of March. Rentals will be just $10 an hour and employees can enjoy the Bay with a coworker or by themselves.
"I've participated in the UCSF kayaking trip a few times and always have a great time," said Sam Mann, a postdoctoral scholar in the DeGrado Lab. "It's a great way to have a fun group outing outdoors – especially when trying to social distance. Plus, it's a solid workout!"
Employees can paddle along Mission Creek to McCovey Cove and take in beautiful views of the baseball stadium, the Bay Bridge, and beyond.
The UCSF staff will provide instructions and Mission Creek's calm waters are an ideal place for beginners to gain experience. Boards, paddles and life jackets are all included.
"I love paddling out around AT&T Park," Mann said. "It's a new perspective on the stadium, seeing where the loyal Giants fans fight over Splash Hits!"
Mann said it's important to be well hydrated and fed before venturing out on the water because paddling in the Bay burns a lot of energy. "Depending on the time of the year, dress warm," he said. "Pick a partner you can get in sync with and don't forget some water shoes because you WILL get wet!"
For more information, visit UCSF Fitness & Recreation.