Ready to Strut Your Stuff? UCSF Employees, Students Needed For April 19 Talent Show
---
By Robert Hood on January 24, 2018
---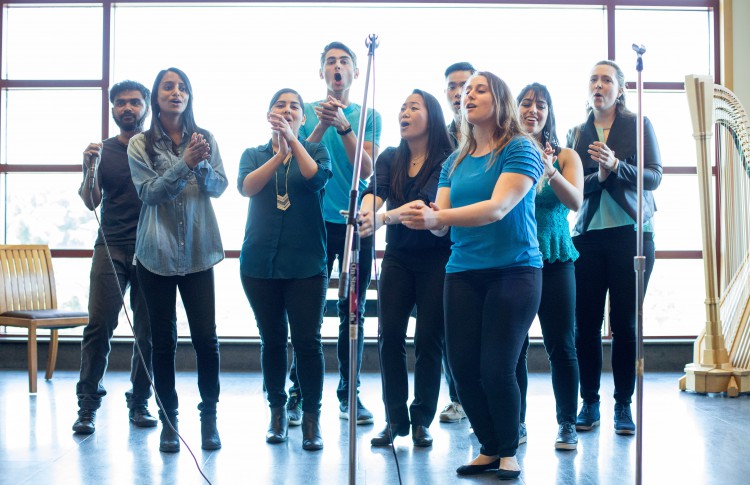 Do you have a special talent? UCSF Campus Life Services and the UCSF Library are seeking talented faculty, staff, students and post-docs for Now Playing 2, a special interactive event on Thursday, April 19 from 11am to 2pm.
This call for talent is for performance artists (singers, dancers, poets, musicians, etc.) and visual artists (painters and photographers). There are a limited number of spots open for this event and they will be offered based on the final decision of the review committee. Submissions must be received by Monday, April 2.
Performance artists must be self-sufficient and bring any items they need for their performance. There will only be a microphone and small p.a. available for use at this event. The performance area will be on the main floor of the library. Most importantly, all artists and audience members are encouraged to bring their sense of fun and creativity.
Former UCSF graduate student Ashley Smart participated last year and appreciated the opportunity to display her artwork. "Having something that is part of UCSF that is dedicated to allowing students to share their art feels like it gives permission to students to have more in their lives than research," she said. Smart also said it was exciting to share her work with others on campus and to be able to see what others have created and to meet people with similar interests.
Visual artists will have an area on the 5th Floor Lange Room at the Parnassus Library to exhibit their art. Artwork must be able to be placed on a standard easel for exhibition.
If you are interested in participating in this talent showcase, send an email to .(JavaScript must be enabled to view this email address) with the following information: name, affiliation to UCSF, and a description of your piece/showcase (include a photo, link to a website/video, if you have one).
All artists must sign liability and media waiver forms if accepted into this showcase.