New Website Helps UCSF Reduce Waste
---
Published on February 06, 2017
---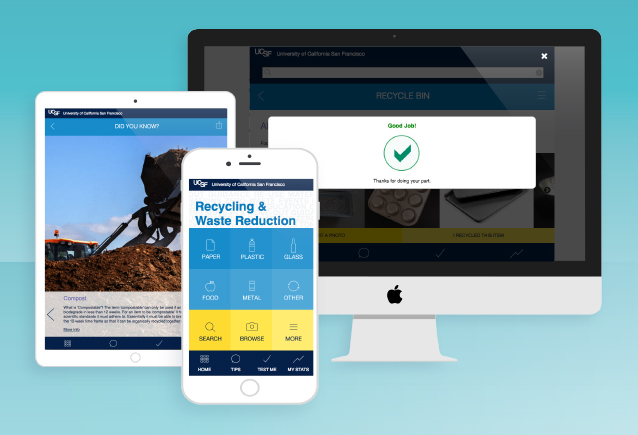 A new recycling and waste reduction website, zerowaste.ucsf.edu, will help users who are unclear whether items should be reused, recycled, composted, or disposed of for landfill.
Facilities Services has launched the new recycling and waste reduction site as part of UCSF's efforts to reach zero waste by 2020. Zero waste means having no recyclables, compostables, or re-usable items disposed of in the landfill.
UCSF currently diverts 74 percent of its recyclables and compostables from the landfill. By educating and increasing user interest, Facilities Services hopes the campus can reach 80% by 2018.
"The site provides tips to help users increase their waste reduction, allows them to track their waste reduction stats, and lets them share their success on social media," said Pablo Ortega, recycling and waste reduction specialist at UCSF. "The site is also available in multiple languages."
The website is an educational tool that can be used across multiple platforms, including smart phones, tablets, and desktop computers. Ortega said it helps promote correct behavior when people are trying to decide how to discard an item.
Zerowaste.ucsf.edu is also designed to be fun. Users can test their knowledge by taking quizzes, learning waste reduction facts, and, over time, earning badges to become waste reduction masters.
Please follow this link to take a survey and provide feedback.