Marina Taruch Brings "TLC" to Engineering Projects
---
By Robert Hood on March 10, 2021
---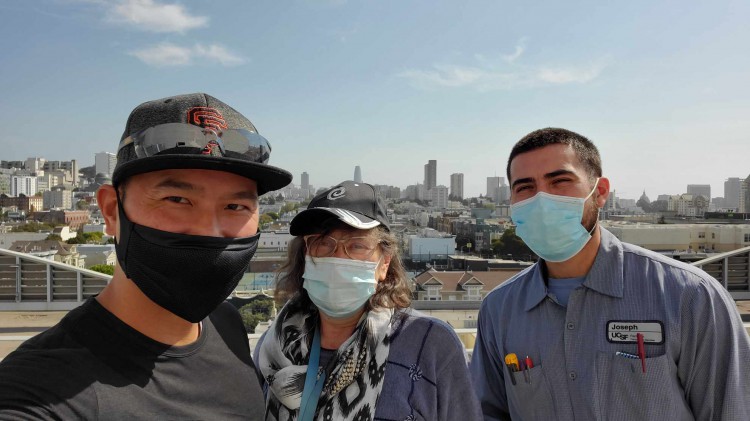 You might say engineering is in Marina Taruch's genes. Taruch, a mechanical engineer at Facilities Services, is a fifth-generation engineer on her father's side of the family and a third-generation engineer on her mother's side.
Growing up in the former Soviet Union, Taruch remembers her grandfather's stories about steam turbines, as he was the chief engineer at a central power plant. "We used to assemble radios and television sets at home," she said. Her father also built modular furniture, constructed water heaters, and built fences and gates according to her drawings on tracing paper. "I enjoyed it since it was a science to learn, and early on I learned how to solve problems," she said. "In high school I always loved physics, technical drafting, 3D-geometry. So it all came naturally, but it was also nurtured by my parents."
Taruch (photographed, center, with Paul X Chiu, left, and Joseph Marquez, right) graduated from the six-year school of Odessa State Academy of Civil Engineering and Architecture in Odessa, Ukraine, and earned a master's degree in air-conditioning and gas supply. She also studied building materials and economics as a minor. "My MS paper was on central heating underground utilities for industrial sites."
But while she was studying, Taruch was also getting real-world experience as a laborer on construction sites. "I was cleaning, laying brick walls, mixing concrete, and moving structural materials. I also worked as a land surveyor and in a contractor's office which was a mandatory internship because, at the time, education was free. It was a common joke in the 70's - we don't need a bulldozer, we have students to work on it!"
Taruch is one of two female engineers working for the UCSF Facilities Services Engineering and Utilities Group. Tiffany P. Lee, who works with Taruch on the Engineering and Utilities team as the principal electrical engineer of West Campus, is the other female engineer. When Taruch took her first class at the Berkeley Extension in 1993, she was one of two women in the 34-person class. "Last year, I noticed at PG&E classes there was nearly as many women as men."
Does Taruch have any advice for aspiring female engineers? "There is no 'maybe' for me – you definitely need to love it, to be passionate about it, and be ready to work in a male-dominated world."
Solomon Degu, assistant director of Engineering at UCSF, said Taruch is hard working and puts in the extra hours to get the work done. "Marina is detail-oriented and goes the extra mile to find means and methods to properly utilize university resources. She is also very friendly and has a warm personality which is liked beyond CLS."
Some of Taruch's favorite projects at UCSF include building the Tidelands student housing and a new research lab in Genentech Hall that involved installation of a new generation electron microscope based on cryogenic technology for more precise cell imaging. "I love any project where I can learn something new," she said.
Taruch believes women have a mission in engineering. "We can bring some TLC (tender loving care) to the project beyond technicalities," she said. "I enjoy working with our highly professional team of engineers but, above that, I'm proud to be a woman on our team!"