Join a Vanpool: Share a Ride to Work and Save!
---
By Georgina Arias on February 10, 2022
---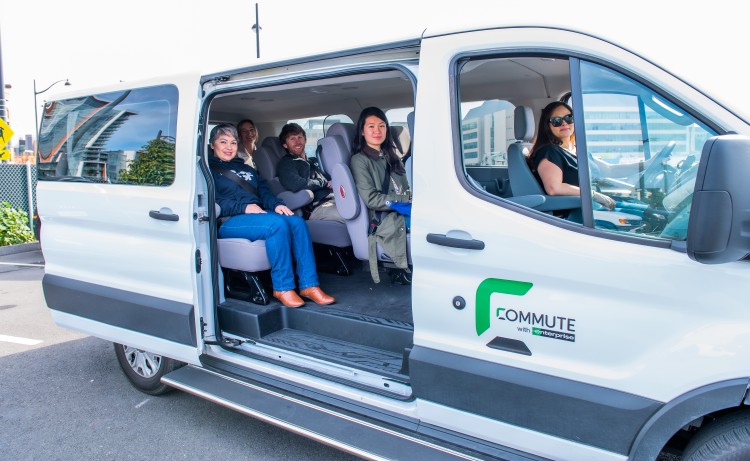 Marco Sanchez, UCSF Documents & Media
To support changing commute needs, UC San Francisco Transportation has revamped the vanpool program, giving participants more control over their commuting experience.
In partnership with Commute with Enterprise, the new and improved program provides greater flexibility, lower fees, and the additional support that is critical during this time of recovery from the pandemic.
"I joined our vanpool in the fall of 2021," said Jonathan Abrenica, financial counselor with UCSF Benioff Children's Hospital. "It has been such a great positive experience. I get to nap and relax rather than taking Muni or BART which can have delays." Abrenica said utlizing High-Occupancy Vehicle (HOV) lanes and discounts help keep commmute costs low. "Now that bridge tolls went up to $7, and we cross two bridges, being in a vanpool is a great deal!"
Cost savings add up with free parking (a $302 value), and subsidies from UCSF ($250) and the Metropolitan Transportation Commission ($350) for qualifying vanpools. UCSF employees can can save even more by participating in the Commuter Benefits program to pay for vanpool fees using pre-tax dollars.
Splitting the cost allows for the flexibility to have staff with reduced on-site schedules get onboard. Whether you are on-site one day a week or five days a week, vanpool may be a good option for your commute.
Vanpooling can have positive impacts on health and well being by reducing stress, and supporting interpersonal relationships. Arriving to work less stressed has the added benefit of increasing work productivity.
Long-time vanpool participant Maria Hetherton, neonatal dietitian with UCSF Benioff Children's Hospital, said vanpools are convenient and efficient. "I've been part of the Walnut Creek to Mission Bay vanpool for seven years and this is the best option for this commute. The established schedule helps me arrive and leave on time! I save significant money and stress on my commute and do my part for the environment."
Are you ready to save time and money? Start at UCSF's MyCommute to match with coworkers who live in the same area and have similar work schedules. Match with vanpools already on the road or chat with carpoolers, a group of five committed people can open a new vanpool.
Concerned about getting home to your family in an emergency? Have you been asked by a supervisor to work unexpected overtime? Transportation offers an Emergency Ride Home Program for those employees who chose to use an alternative to driving alone such as vanpooling.
COVID-19-Health & Safety Precautions
Your safety is our priority. Please be aware of current UCSF protocols and requirements. While UCSF has a high vaccination compliance rate, talk with potential vanpool partners to make sure everyone is on the same page with health safety measures.
To learn more about the program, visit UCSF's vanpool webpage or email Transportation(at)ucsf.edu.