Jennifer Dowd, Laura Ishkanian Honored at Founders Day Celebration
---
By Robert Hood on May 21, 2021
---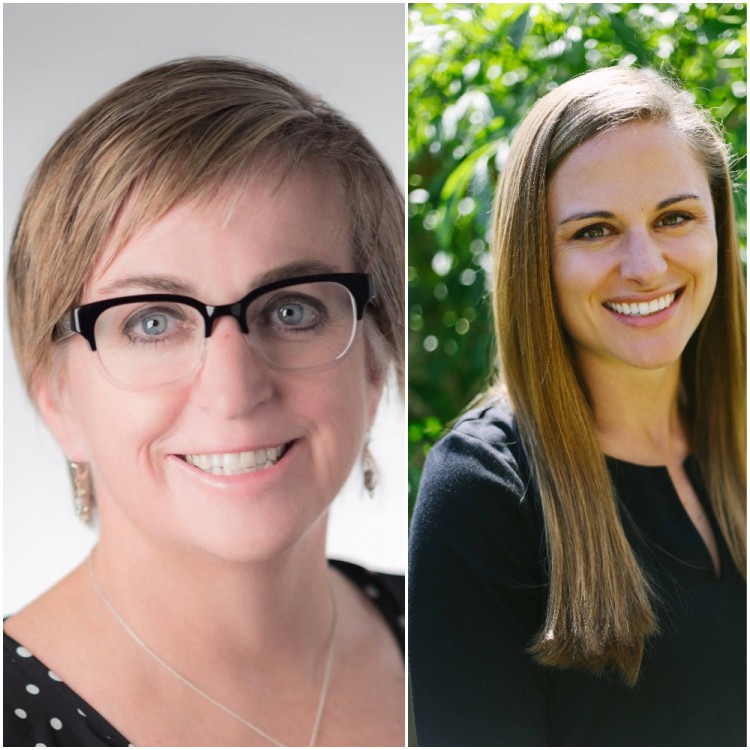 Retail Services Manager Jennifer Dowd (photographed above, left) and Director of Family Services, Laura Ishkanian (right), were honored on Friday, May 21 at the 2021 UC San Francisco Founders Day Virtual Awards Celebration.
Dowd and Ishkanian were among 15 members of the UCSF community recognized at the event. Dowd was one of five UCSF employees honored with the Chancellor Award for Exceptional Management while Ishkanian was one of four employees honored with the Chancellor Award for Exceptional Service. These are two of the highest honors bestowed on UCSF employees annually.
The Chancellor Awards recognize the outstanding efforts of individuals who work tirelessly towards UCSF's commitment to research, patient care, and education, as well as demonstrate a strong dedication to advancing health, community, and diversity. Recipients exhibit extraordinary professional performance and service beyond the scope of their individual functions at UCSF, and embody the university's PRIDE Values: professionalism, respect, integrity, diversity, and excellence, serving as role models for future generations of faculty, staff, students, and trainees.
The Award for Exceptional Management recognizes exceptional departmental and employee management by staff members who demonstrate outstanding dedication to the betterment of their staff and UCSF.
The Award for Exceptional Service recognizes exceptional individual service contributions to UCSF by staff members who demonstrate outstanding dedication to the betterment of UCSF, devoting time as well as energy to serve the university and campus community.
Dowd was introduced by Cindy Yoxsimer, Executive Director, Business & Technology Solutions, Campus Life Services. "I have worked with Jen for a number of years. She's a take-charge decision maker and passionate community member," Yoxsimer said. Yoxsimer explained how Dowd adjusted to keep the university's restaurants open at the outset of the Covid-19 pandemic. "She gets stronger in difficult situations," Yoxsimer said. "She's an example for all of us and I want to personally thank her."
Dowd recognized her "small but mighty team" in the effort to keep the doors open for UCSF retailers and said she was proud that her nomination for the award was supported by five of the retail tenants. "These are the people I want to support in their entrepreneurial efforts," she said.
She also recognized her Campus Life Services colleagues who work every day to provide frontline essential services such as transportation, custodial, housing, parking, copying, food and beverage and more. "This has been a very challenging year, but you truly do make life better at UCSF for faculty, staff, students, patients and visitors."
Dowd also mentioned how she learned valuable critical thinking skills and crisis management when her father went missing for eight days. "I learned how to ask for help and offer help and what I learned from that experience continues to guide me."
Ishkanian said she was humbled to receive the award in light of all the amazing work that occurred in response to the pandemic. "I've worked at UCSF for eight years and the people who work here make this place special," she said.
Senior Associate Vice Chancellor of Campus Life Services, Clare Shinnerl, said Ishkanian and her team worked to expand services to UCSF families during the pandemic and operated the university's child care centers without disruption. "In the early days of the pandemic, UCSF's child care centers were the only corporate child care centers operating in San Francisco," Shinnerl said. "Laura's work to partner with the YMCA to provide learning centers at UCSF for school children was a huge boost for working families struggling during the pandemic."
Ishkanian said her team in Family Services and colleagues in Campus Life Services were instrumental in stepping up to keep the university's child care centers open and find space for YMCA learning centers. She said the on-site distance learning and summer camp opportunities provided a much-needed sense of normalcy for the UCSF community. "I am so grateful to the university for making sure child care was taken care of," she said.
UCSF Chancellor Sam Hawgood congratulated Ishkanian for her quiet and effective advocacy. "She was able to pull a rabbit out of the hat time and time again," he said. "Nobody is more deserving."