Getting Around Mission Bay: The Road to Improvement (Part 1)
---
By Robert Hood on May 18, 2018
---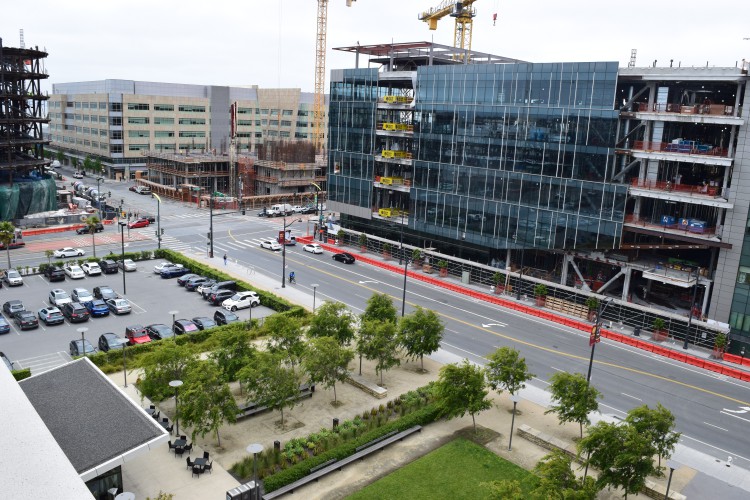 If you commute around Mission Bay, you must be wondering: what plans are underway to ensure everyone can get to and from this expanding part of San Francisco? To keep the UCSF community informed of planned public transit and street enhancements, a series of articles will be featured in Pulse.
In this first article (Part 1), the following near-term improvements are highlighted:
• New transit- and taxi-only lanes on 16th street
• Opening of Nelson Rising Lane connector to Owens Street
• Opening of Owens Street connector to Mariposa Street
• Parking restrictions and pedestrian improvements ramping up in Dogpatch
New Transit-and Taxi-Only Lanes on 16th Street—To ensure unobstructed access for emergency vehicles, shuttles, buses, and taxis, the City of San Francisco has introduced transit-and taxi-only lanes on 16th Street. This change has eliminated one lane in each direction for automobiles between Third Street and Potrero Avenue, and will ultimately extend a total of approximately 30 blocks to Church Street. At this time, the white text markings on the street are subtle so be aware that citations are being issued to drivers of personal vehicles who use these restricted lanes.
While the lanes haven't received the "red carpet" paint treatment yet, you can expect it soon. Once painted, the restricted use will become more visible and will look consistent with other transit-and taxi-only lanes in the city. "The lanes are scheduled to be painted red by the City by Fall 2019," said Kevin Beauchamp, director of physical planning in UCSF Real Estate.
Facts About Transit-and Taxi-Only Lanes
Vehicles illegally parked or stopped in these lanes may have their license plate captured by a camera on a passing San Francisco Municipal Transportation (Muni) bus, resulting in a citation in the mail.
People driving and bicycling are only allowed to enter these lanes when necessary to make the following maneuvers:
* To make a turn
* Drivers: to enter or exit a curbside parking space next to the lane
* Bicycle riders: to reach the curb
Ridesharing companies, such as Uber and Lyft, are also prohibited from driving in these lanes.
Additional details can be found on the Muni website.
While the red lanes might slow down your car drive, "they will benefit emergency vehicles accessing UCSF hospitals and the UCSF shuttle system," Beauchamp said.
A recent study conducted by Muni shows another benefit: the transit-and taxi-only lanes lead to fewer collisions (because of slower driving) and risky driving behaviors (because of fewer passing opportunities). Muni studied the red lanes on 3rd Street, between Townsend and Stevenson streets; Geary Street, between Powell and Polk streets; and O'Farrell Street, between Gough and Powell streets. On all three streets, overall collisions dropped by 16 percent and injury collisions dropped by 24 percent.
Opening of Nelson Rising Lane Connector to Owens Street—The opening of the Nelson Rising Lane connection to Owens Street is expected any day. "When this street opens, this will make it easier for drivers to enter and exit parking lots in the northern blocks of the Mission Bay campus, and for certain UCSF shuttles to move through the northern area," explained Erick Villalobos, UCSF's director of Transportation Services.
Opening of Owens Street Connector to Mariposa – The City of San Francisco is working hard to resolve technical issues that are holding up the opening of Owens Street behind the Mission Bay hospital garage to through traffic. Once that section of Owens Street is opened by the City, Owens Street will connect to Mariposa Street and drivers will also be able to exit and enter the 280 freeway directly onto Owens Street. "While the City does not currently have a timetable for opening this critical connection, we are continuing to emphasize the importance of accomplishing this quickly so drivers have an alternative to Mariposa and Third streets when exiting and entering the freeway," Beauchamp said. One additional factor to be aware of that Beauchamp notes: "When Owens Street opens as a through street pedestrians will need to be mindful of cars exiting the freeway onto Owens Street, which will be a new dynamic for this part of campus."
Parking Restrictions and Pedestrian Improvements Ramping up in Dogpatch – Street parking throughout Dogpatch will become more restricted starting this August. Parking spots that are currently free will be metered or require a residential parking permit. The Dogpatch parking management plan is posted on the Muni website.
"For employees who park in the Dogpatch neighborhood, this would be a good time to explore public transit or van pool options via MyCommute or to apply for a UCSF parking permit, since the cost for meters will exceed the cost of a UCSF permit," explained Villalobos.
For those who walk or drive through Dogpatch, the city recently installed a four-way stop sign at the intersection of Minnesota Street and 18th Street. UCSF has provided the City with the funding to install a traffic signal at the intersection to protect the safety of UCSF employees and students and nearby neighbors. "We've asked the City to install the traffic light at this intersection by the time that UCSF's Minnesota Street graduate student and trainee housing project opens in 2019, but until then, the four-way stop is a step in the right direction," commented Beauchamp.
Other transit and road improvements will be featured in future articles, including improvements resulting from the outcomes proposed in Regional Measure 3 on the June 5, 2018 ballot. Regional Measure 3 is a plan to build major roadway and public transit improvements via an increase in tolls on all Bay Area bridges except the Golden Gate Bridge. The measure, if passed, would fund new BART cars, the extension of BART to Silicon Valley, new Muni light rail cars, more frequent and expanded ferry service, including a new ferry terminal in Mission Bay (16th Street), and the extension of Caltrain to downtown San Francisco.