Frontline Food, Education Workers Receive COVID Vaccinations
---
By Robert Hood on February 12, 2021
---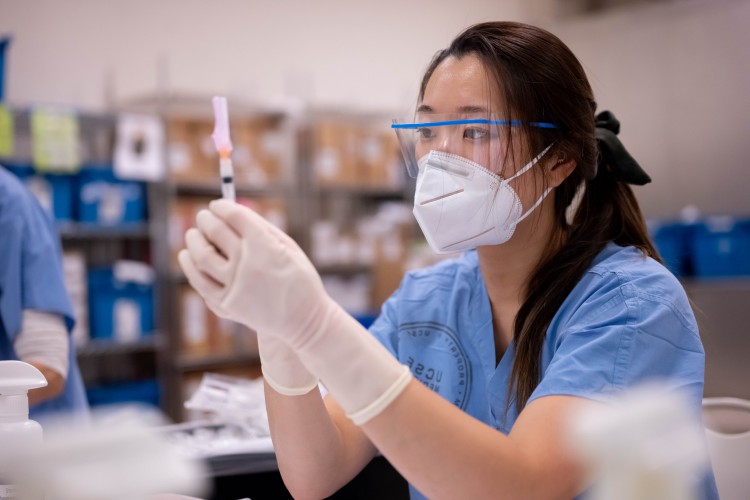 Susan Merrell
For Valon Grajqevci, receiving his first COVID-19 vaccination was both exciting and a bit overwhelming. Grajqevci joined other contract workers at UCSF who work in frontline food service and education industries and who recently received their first shots through UCSF's campus clinics.
UCSF's onsite eateries and youth and child educational centers are staffed with contractors who have been providing services to UCSF doctors, nurses, researchers, and on-site staff throughout the pandemic. Since the Centers for Disease Control recently added food service and educational staff as essential workers in phase 1b and because these positions work on campus, they were included in UCSF's vaccination efforts.
"It was a bit overwhelming since we have been waiting so long," said Grajqevci, who operates the Terzetto Express coffee cart at 400 Parnassus. Grajqevci described the process as "easy, breezy" and thought the nurse was kidding when she was finished administering the vaccination. "I did not even feel it," he said.
Since food service and educational staff are contractors and not UCSF employees, they had to be manually loaded into MyChart, UCSF Health's patient portal and system used to schedule to vaccine appointments.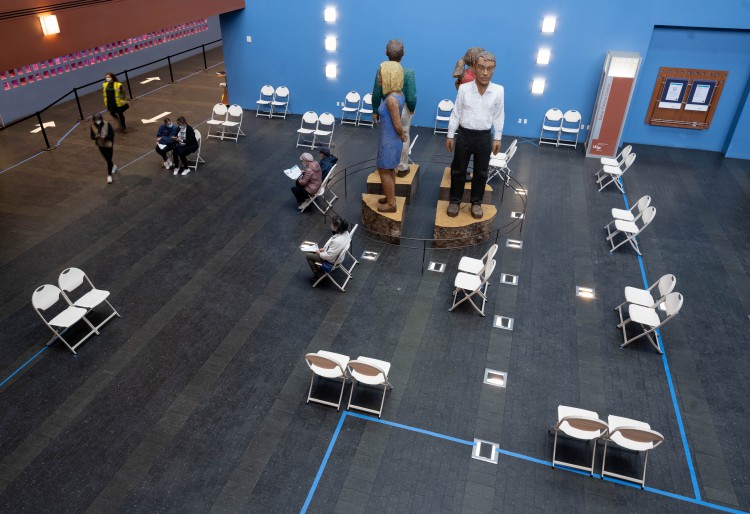 Karim Salgado, manager of Carmelina's Taqueria, said it took approximately a month from the time the restaurant's staff created MyChart accounts to the time they received their shots. "When we received word that we were going to get our shots, I rushed to the restaurant to get my staff ready. We closed up our restaurant for a few minutes and walked across the street. My staff was ready and excited to get vaccinated."
She said the process was simple and fast. "From the moment we walked into the building everyone was very friendly and helpful. The process was very smooth. They even helped us with our breathing technique. It was a very positive experience."
On campus every day and providing care to UCSF children are 180 education employees, staffing Bright Horizons and YMCA Learning Camps. Although there have been no on-site COVID-19 transmissions in UCSF childcare centers and youth programs, it is a huge relief to have teachers vaccinated since UCSF families are dependent on having uninterrupted care.
Gregory Flores is part of the YMCA staff working at the Laurel Heights YMCA Learning Camp and also received his vaccination.
"I was told about an opportunity to receive the vaccine from my supervisor the same day that I received it," Flores said. "Due to the limited number of doses available and the high demand, it was necessary for me to go as soon as possible. We have had great communication between our organization and UCSF to help keep us in the loop with any COVID-related updates."
UCSF has provided more than 50,000 doses of vaccine to employees, city health care workers, on-site contractors, and patients. As of Monday, Feb. 8, UCSF began vaccinating all employees and learners whose work has required them to be on site at least once-per-week for the past three months.
For more information, visit the UCSF COVID-19 Vaccine Information Hub.