Exploring Ways to Reduce Costs, Streamline the Process, for Seismic Installations
---
Published on January 05, 2017
---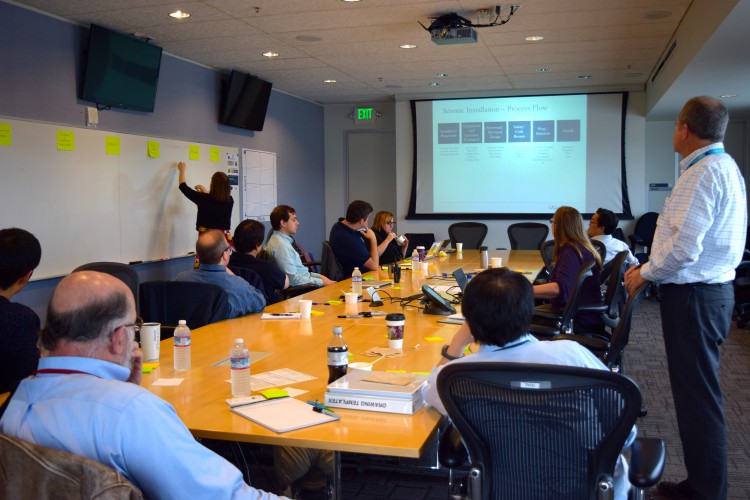 Installing equipment that needs seismic bracing, such as freezers, incubators, large monitors, furniture, etc., can be frustrating and expensive at UCSF. That's why Facilities Services recently brought together a group of people including facilities managers, customers, IT and electrical engineers, the state fire marshal, and trades personnel at a mini-kaizen to identify ways to streamline the process and reduce costs.
Sponsoring this event was Millicent Magiera, director of east campus operations for Facilities Services. "We share the same goal as the campus community," Magiera said. "We want to reduce costs and make the process as efficient as possible."
"We know the process is cumbersome and costly and it's frustrating for both customers and our facilities staff," said Jodi Soboll, deputy executive director for Facilities Services. Soboll, who oversees infrastructure and utilities at UCSF, facilitated the Dec. 14 meeting. "The main request from our customers was more communication and transparency." The kaizen helped create many ideas aimed at achieving these goals.
A sub-team of Facilities members who participated in the kaizen are being led by Magiera to develop and implement action items resulting from the kaizen. These include activities such as:
• Developing a two-way communication plan for status updates during a seismic installation project,
• Providing a flow chart with expectations to customers prior to beginning a project,
• Simplifying the design and installation processes, and
• Creating standard work and checklists to aid with execution.
"As a result of this workshop, we are going to produce easy-to-understand documentation describing which equipment needs seismic bracing and then provide training to the UCSF community regarding these requirements," Soboll said.
At the end of the workshop, all of the participants felt it was extremely useful to understand each players' role in the process and looked forward to seeing positive results. And despite early concerns about a four hour meeting, everyone said they had a lot of fun too!