Building Lifesaving Face Shields to Fight COVID-19
---
By Robert Hood on April 09, 2020
---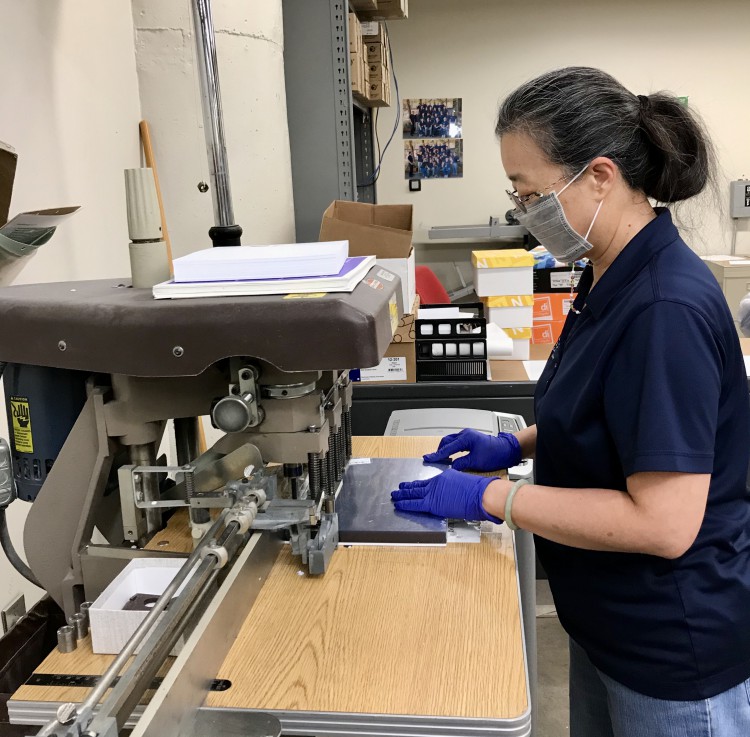 Mario Carmona
Documents and Media is helping keep UC San Francisco medical professionals safe as they treat COVID-19 patients thanks to a high-capacity drill press and clear plastic sheets normally used on reports for schools and businesses.
Kirk Hudson, technology commons and facilities manager at the UCSF Kalmanovitz Library, had Dylan Romero, Makers Lab manager, contact Mario Carmona, business operations manager at DM to solicit DM's help in producing the full protection face shields used by health professionals on the front lines.
"Since we manage the DM Service Center in the library, Kirk is familiar with our services and knew we could possibly help with the production of the face shields," Carmona said.
Alexis Dang, MD, associate professor of orthopedic surgery and co-director of UCSF's Center for Advanced 3D Technologies, and Dylan Romero, Makers Lab manager, created the 3D-printed headband. Romero contacted DM to see if they could help hole-punch the clear plastic film that attaches to the headband to protect the face from splashes and droplets.
While the DM service centers are currently closed, a small group of essential workers remain onsite to produce essential printing jobs for the university. Boxes of clear sheets were transported from the library to DM's main office at the Mission Center Building. "We regularly manage high-capacity punching and have the needed equipment at our main plant at the MCB," Carmona said. "We have our multiple-spindle paper drill presses for high-capacity punching within our bindery and finishing area."
Carmona said the library transported the boxed, unpunched transparency stock to MCB. Individual paper drill bits and all work surfaces were sanitized and wiped down with disinfectant wipes. Lisa Gee (shown in photo drilling holes in the plastic), digital production manager at DM, drilled each of the 100-count packages.
"The packs weren't opened, to limit exposure," Carmona said. "The packs were re-boxed and the library picked up the drilled transparency stock and delivered them to the Makers Lab on the same day where they were put into production to attach to the headband."
The design has been approved by UCSF's PPE Task Force as well as the departments of Clinical Technologies, Infection Control, and Safety. The total cost of the materials is less than $1 per shield, and each shield takes about an hour and 20 minutes to manufacture. Comparable face shields on the open market cost about $20 each.