Digital Signage Enhances Communications at Valley Center for Vision
---
By Robert Hood on October 15, 2021
---

Marco Sanchez, UCSF Documents & Media
Every day, hundreds of patients visit the new Wayne and Gladys Valley Center for Vision at Mission Bay and most rely on a series of digital signs to navigate the building.
"Digital signs and technology are instrumental in how we run the clinic and improve the patient experience," said Rick Seefeldt, director of faculty practices in the Department of Ophthalmology. "Communication with our patients is very important."
Seefeldt and Dr. Stephen McLeod, chair of ophthalmology at UCSF, partnered with the team at Campus Life Services Technology Solutions to develop a strategy for implementing digital messaging at the 12-story, 347,500-square-foot building.
The digital strategy is centered around the patients. It includes provider bios, their research and clinical interests, where they did their fellowship and residency, and where they went to medical school. Seefeldt said patients appreciate getting to know the providers through the digital sign messages.
"The digital signage team is really easy to work with and they are a very savvy group," Seefeldt said. "From the beginning they got us up to speed and gave us detailed walkthroughs on Zoom and showed us where to store images. They really prodded us to own the project which, in hindsight, was excellent advice."
McLeod said the signs have been a wonderful benefit for patients, many of whom are visually impaired. "The design has been thoughtful in taking this into account and presenting information about our practice and our providers that is engaging and accessible."
McLeod also lauded the partnership with the Campus Life Services digital signage team. "They really go to extraordinary lengths to try to understand how any given department can derive the greatest benefit from these resources," he said. "We would strongly encourage any department to invest the time in working with the groups collaboratively so as to make the most of this."
Seefeldt said implementing a digital communication strategy has the added benefit of creating a paperless patient waiting area. "We no longer have magazines, brochures, and handouts cluttering the waiting areas and we use a QR code on the digital signs for philanthropy."
Dan Henroid, Nutrition & Food Services director for UCSF Health, has been an early adapter of digital signage and has partnered frequently with the Campus Life Services digital signage team. "It's always helpful to work with other UCSF stakeholders who have done digital signage," Henroid said. "They have lots of tips on how to maximize it. Digital signage is one of the most cost-effective ways we have to communicate to our patients, customers, and stakeholders. It does take some planning but that's typically at the beginning of a project. It's pretty easy to manage digital signage once it's installed."
Henroid said digital signage improves the patient and customer experience by giving UCSF Health an efficient and effective way to communicate with customers. "We have been able to effectively leverage technology to communicate relevant information to the patients about their visit, including directions to their clinic destination and amenities in the building."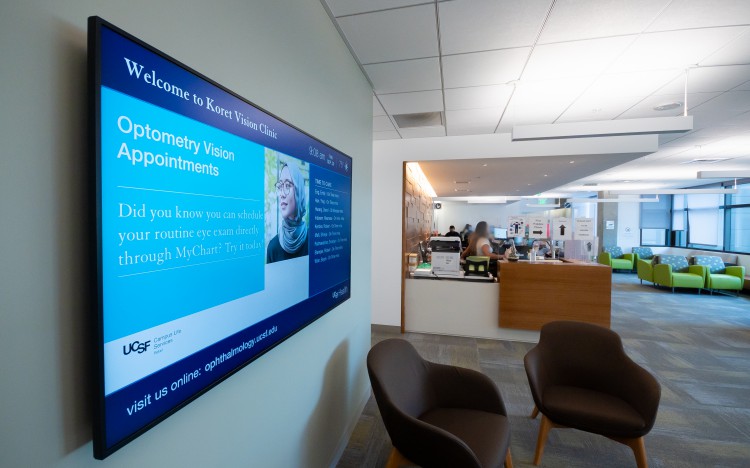 Both UCSF Health and the Department of Ophthalmology use digital signage to communicate directly to patients as they wait for their appointments (left). "A key feature has been to communicate whether their provider is on time," Henroid said. "Using digital signage and an in-house developed web application, we have been able to develop a system to allow clinic staff to dynamically communicate to patients upon their arrival the timeliness of their appointment." UCSF Documents & Media built the web application and works with Henroid to maintain it.
Seefeldt said another advantage to communicating with digital signage is the ability improve the patient experience. "The technology is an extremely important tool for how we run our clinic," he said.
CLS Tech launched the first digital signs in 2014 in the Rutter Center. Today, CLS Tech supports approximately 200 signs and an additional 35 signs are planned. This includes 30 new signs between the new Nancy Friend Pritzker Psychiatry Building and the UCSF Research and Academic Building at ZSFG and five more signs installed as part of departmental space renewal projects on campus.
To learn more about digital signage at UCSF, visit CLS Tech or email digital.signage(at)ucsf.edu for more information.