Custodians Remain at UCSF to Keep Buildings Clean, Safe
---
By Robert Hood on March 18, 2020
---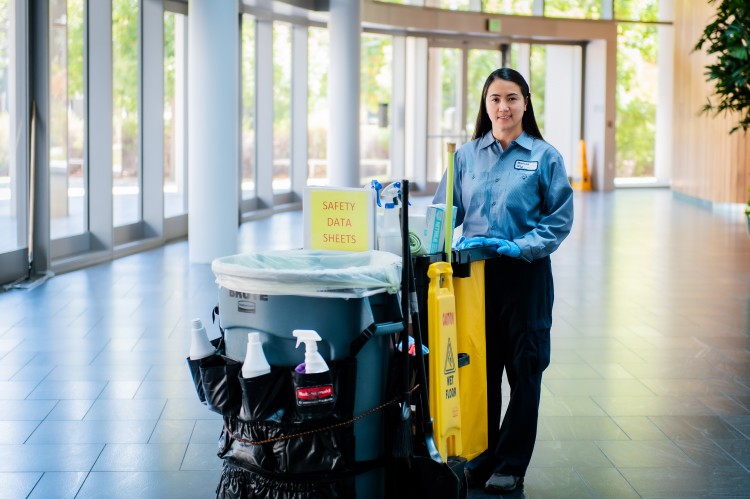 While much of the UC San Francisco workforce is sheltered in place and working from home, many custodians remain on campus keeping buildings clean and disinfected so critical research, education, and health care can continue.
One example is Marissa Pasco (photographed above), who is working at the Cardiovascular Research Institute on the UCSF Mission Bay campus.
"Cleanliness is important for everyone at UCSF," said Custodial Services Director Billy Reynoso. Reynoso said that although campus buildings are not as populated as before, Facilities Services is ensuring that those still working on campus have clean and disinfected facilities.
Facilities Services Director of Operations, Cesar Sanchez, said he was proud of the custodians work in support of the mission of the university.
Consistent with guidance from the US Centers for Disease Control and Prevention (CDC), Facilities Services has increased cleaning frequencies and is disinfecting all high-touch surfaces, such as tables, chairs, countertops, drinking fountains, elevator buttons, door handles, kitchens, and restrooms. Temporary hand sanitizer stands have also been installed near main entrances and elevators in high-traffic areas.
"Not only is the university clean," Sanchez said, "but our custodians are disinfecting high-touch areas to help curb the COVID-19 virus and keep the buildings safe for other UCSF employees. Our Facilities Services staff are dedicated, committed, and driving UCSF's mission to improve public health - now - when it counts most. I love our team and I'm proud to work alongside them every day."