Custodial Services Shift to Daytime Cleaning Model Earns Positive Feedback
---
By Robert Hood on November 19, 2020
---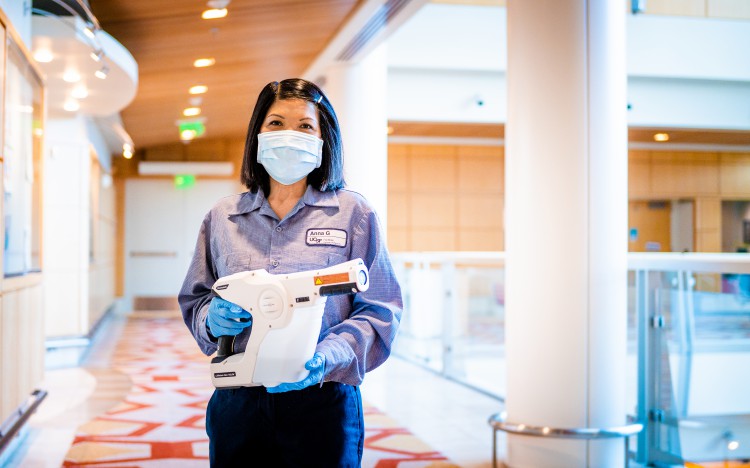 Jenny Low, a lead custodian who works at Mission Bay, couldn't be happier with the recent change by Facilities Services to move to a daytime cleaning model.
"I like the new schedule because it gives me more time with my family, especially with my grandkids," said Low, who used to work afternoons but is now working an earlier shift. "We can't control what's going on outside, so changes that we implement to support the needs of our community I support 100 percent."
On Nov. 2, Facilities Services implemented the new daytime cleaning model to help meet the demand for enhanced cleaning during the daytime hours as the campus workforce changes due to the COVID-19 pandemic. The new model also helps maintain costs and accommodates staff who rely on public transportation, which has also altered schedules due to the pandemic.
"The custodial schedule changes align with our overarching goal to ensure the safety and wellbeing of the UCSF community through industry standard cleaning practices," said Interim Assistant Director of Custodial Services, Felipe Rubio. "Our cleaning efforts align with the Centers for Disease Control and Prevention and the San Francisco Department of Public Health."
Under the new cleaning model, the majority of cleaning services and disinfecting of high-touch surfaces are performed on weekdays. Custodian Anna Ganzon (photographed above) models an electrostatic spraying machined used for enhanced cleaning, which occurs three times or more daily and at least once per evening. Most of the enhanced cleaning occurs during peak business hours between 5am and 3:30pm, but a small number of custodians work later shifts.
Daily servicing of waste, recycling, and compost removal are provided to common areas such as kitchens, restrooms, conference rooms, and corridors. Under the new cleaning model, custodians are no longer providing service to personal offices, individuals cubicles and desks, or huddle rooms. Employees can request desk-side waste bins for dry materials, but employees are responsible for sorting desk-side waste into the larger waste receptacles in kitchens or common rooms.
For more information, or to view two recorded virtual meetings detailing the new schedule, please visit Facilities Services.