Cast Members from The Color Purple Are Coming to UCSF
---
By Robert Hood on April 09, 2018
---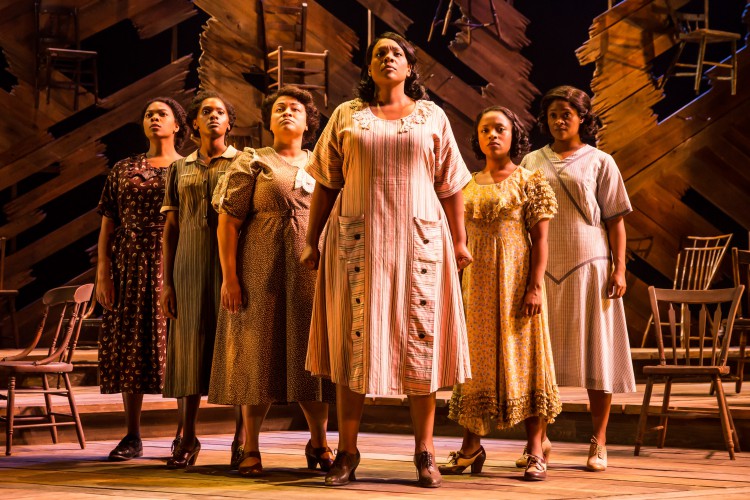 Cast members from The Color Purple are coming to UC San Francisco on Thursday, May 3 as a preview for UCSF Night at the SHN Orpheum Theater on Thursday, May 10.
"The enthusiasm and support from UCSF employees is palpable when they come to a show at SHN, so it is time for SHN to bring the excitement directly to UCSF," said Brett Baker, vice president of client relations for the theater.
Cast members will perform songs at Cole Hall on May 3 from noon to 1pm and participate in a Q&A with Evolve Benton, assistant director of the UCSF LGBT & Multicultural Resource Centers. Every attendee will be entered into a drawing for two free tickets to the UCSF Night at the Theater featuring the Color Purple on May 10. If you are unable to attend, you can enter the drawing by sending an email to .(JavaScript must be enabled to view this email address). This event is produced and sponsored by Campus Life Services Arts & Events, the Office of Diversity and Outreach, and The Black Caucus.
"We're thrilled to be hosting an onsite teaser and Q&A with the cast to promote our next UCSF Night at the Theatre," Baker said. "In addition, we are hosting an exclusive onsite, pre-show mixer for all UCSF attendees, along with a special post-show Q&A immediately following the performance."
The UCSF Night at the Theater event on May 10 begins at 6:30pm in the City National Bank Blue Room at the SHN Orpheum Theater and Baker suggests arriving early to grab a beverage, mix and mingle with UCSF colleagues, and enjoy the historic theater.
"It was officially designated a San Francisco landmark in 1977," Baker said. "It was originally built in 1926 by theatre mogul, Alexander Pantages. What started off as a vaudeville house, the SHN Orpheum later transformed to become one of San Francisco's premier theatrical venues that hosts current hits from Broadway, pre-Broadway premiers, along with one-of-a-kind events that are at the forefront of the national theatre scene."
Cast member Angela Birchett, who plays the Church Lady, said this version of the Color Purple is quite different in terms of the look and storytelling of the original version.
"This time around, our amazing director, John Doyle, stripped the look, costuming, staging and choreography down to get to the heart of the matter – the storytelling," she said. "You will see very few props and costume changes in this version. The minimalistic design of this show helps to bring the audience right into the heart of the story; there are no distractions!"
Birchett said she could immediately see herself in the women and the story the first time she saw this version on Broadway. "When I became a part of this company, it just felt right. It felt like where I should be. Seeing the joy, hearing the responses and seeing the tears of the audience and how they connect with us lets me know there's nowhere else I'd rather be in this part of my life's journey!"
Pilar Deer, program coordinator for UCSF Arts & Events, said the university's relationship with SHN Theaters opened the door to this unique opportunity for the UCSF community.
"We're excited to have cast members perform on campus and participate in the Q&A," she said. "Our theater events at the Orpheum are always exiting but having the cast on campus makes this special."
To purchase tickets, visit Arts & Events.