Campus Life Services Launches ETA Website
---
By Robert Hood on September 26, 2019
---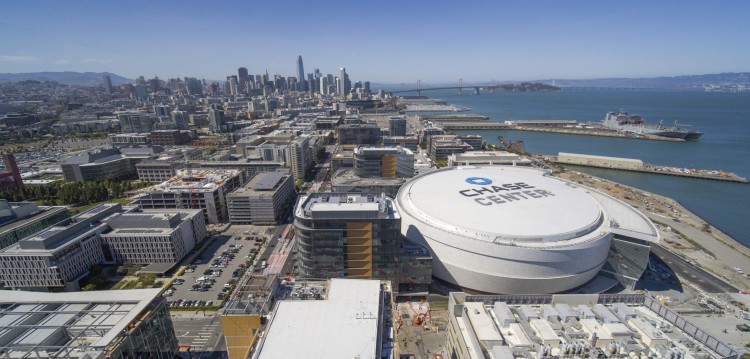 The Chase Center will host more than 200 events a year; 90 of which will attract between 12,500 and 18,000 attendees. Campus Life Services has launched a new website to help the UCSF community navigate the increased traffic congestion in and around Mission Bay.
"We are pleased that the Chase Center, in partnership with the San Francisco Municipal Transportation Agency (SFMTA), is actively promoting the use of public transit and other sustainable forms of transportation, such as biking and walking," explained Amit Kothari, interim director of UCSF Transportation Services.
"Even with this effort, many patrons will choose to drive to Mission Bay, and so we are expecting increased traffic congestion during the evening peak-commute hours," Kothari noted. "To minimize any negative impact on the UCSF community, we have developed communication tools and resources that will help everyone better navigate the neighborhood."
The new ETA.ucsf.edu website provides a two-month calendar alerting UCSF community members who must travel by car to Mission Bay of impending traffic congestion. On red days, commuters can expect major delays as the new Chase Center is having an event with more than 10,000 attendees or there are events at both the Chase Center and Oracle Park with similar start times or there are events at either arena in conjunction with other Mission Bay activity.
On yellow days, delays can be expected during the workweek due to events at Chase Center with fewer than 10,000 people. Most weekends will be yellow even with large events, given the absence of commute traffic.
The calendar is a simple way for members of the UCSF community to plan ahead and adjust their schedules or commute modes, if possible, to avoid particularly bad traffic days.
"We also hope the calendar will continue to encourage the UCSF community to leave their cars at home and use public transit and other forms of sustainable transportation when coming to campus," said Kothari. At UCSF, only 26.2% of commuters come to campus alone in a car, the lowest "single occupancy vehicle" rate in the University of California system.
To help Mission Bay commuters, including UCSF employees and patients, the San Francisco Municipal Transportation Agency (SFMTA), officially debuted the new "UCSF-Chase Center Platform" in August. In anticipation of the new Chase Center and the growth in jobs, housing, healthcare and retail in the Mission Bay, the SFMTA constructed a new center platform along 3rd Street between South (now Warriors Way) and 16th streets. This new, larger platform will service both the inbound and outbound trains and greatly expand transit capacity in preparation for large crowds.
At ETA.ucsf.edu, you can also sign up for Mission Bay traffic alerts, though initially Transportation Services will email alerts broadly to ensure everyone receives the important messages. Alerts will also be posted on the UCSF mobile app, social media channels, and digital signs.
Resources to help employees "rock their commute" are also on the ETA website. Employees are encouraged to rethink their commutes, especially on red days, and the site has resources on UCSF shuttles, telecommuting, biking, vanpooling and other options to beat the traffic.
If you have to drive on a major Chase Center event day, ETA.ucsf.edu will provide maps showing street closures and preferred routes.