Court Ruling: UCSF Required to Collect Parking Tax
---
By Robert Hood on February 28, 2020
---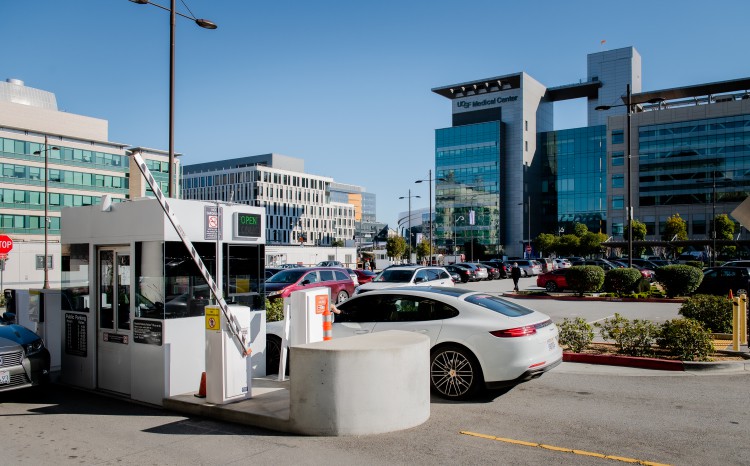 Marco Sanchez, UCSF Documents & Media
Those who purchase an annual UC San Francisco parking permit can expect the cost of that permit to increase substantially beginning July 1, mainly given a recent California Supreme Court ruling.
The seven-member court ruled unanimously last June that the City and County of San Francisco has the right to collect a 25 percent parking tax from drivers who park in public university lots and garages located in the city. UCSF made every effort to maintain the exemption for drivers in partnership with other public institutions named in the legal case, including UC Hastings and San Francisco State University.
UCSF estimates it will collect $6 million a year in taxes from drivers parking on campus, and the city says it will use the tax revenue to improve services provided by the San Francisco Metropolitan Transportation Agency (SFMTA), which includes Muni.
The city's argument in the court was that drivers to and from UCSF (and UC Hastings and San Francisco State University) use the city's infrastructure (roads, traffic lights, bike lanes, etc.) but do not pay parking taxes to fund infrastructure improvements.
Approximately 8,200 (22 percent) of UCSF employees are permit holders. Only 453, or five percent, of UCSF students are permit holders.
In addition to the tax, UCSF Transportation Services needs to increase permit costs every year to cover operational increases and investments in capital construction. Over the past six years, permit rates have increased on average 7.5 percent. For Fiscal Year 2020-2021, the permit rate will increase again by 7.5 percent.
"We understand the increases will add a significant cost burden to many of our permit holders, and we are working hard to provide alternatives to driving for the benefit of our community and have included these alternatives on eta.ucsf.edu," explained Clare Shinnerl, senior associate vice chancellor of Campus Life Services.
Parking revenue provides funds to support parking garage and lot operations, including labor, maintenance, repair, facility enhancements, and capital improvement projects. This includes construction of a new garage at Block 34 on the Mission Bay campus and large-scale structural improvements and visual enhancements to the existing parking structures at Parnassus Heights.
Revenue generated by parking fees also help offset the cost of the university's extensive shuttle system which transports 2.5 million passengers a year. It also supports various clean and sustainable commute options such as carpool, vanpool, bicycling and shuttles to and from major transit hubs.
"As is the case at each University of California campus, Transportation Services is an 'auxiliary' department, which means the department is expected to self-support operations with parking revenue funding the department," explained Shinnerl.
After incorporating the 7.5 percent operational increase and adding the 25 percent city parking tax, UCSF's parking rates will increase by 34.4 percent for the fiscal year beginning on July 1. As an example, "all-day" permits will increase from $250-a-month to $336 and "student" permits will increase from $125 to $168. All other parking permits will also increase. For more information, please view the UCSF Parking Permit Costs chart on the Transportation Services website.
To help commuters, Transportation Services will step up the availability and promotion of alternative transportation options. For example, Transportation Services will reduce the cost of permits for carpoolers starting May 1, and discount vanpool participation.
Also on May 1, a UCSF shuttle will provide service between the 16th Street and Mission BART station and Parnassus Heights, providing a convenient commute alternative to members of the UCSF community, including patients, who have been driving from the East Bay to reach Parnassus Heights.
More details about alternative transportation options can be found on: eta.ucsf.edu and you can find FAQs about the city parking tax at Transportation Services.