Bakar Fitness Center Set to Reopen in July
---
By Robert Hood on March 23, 2021
---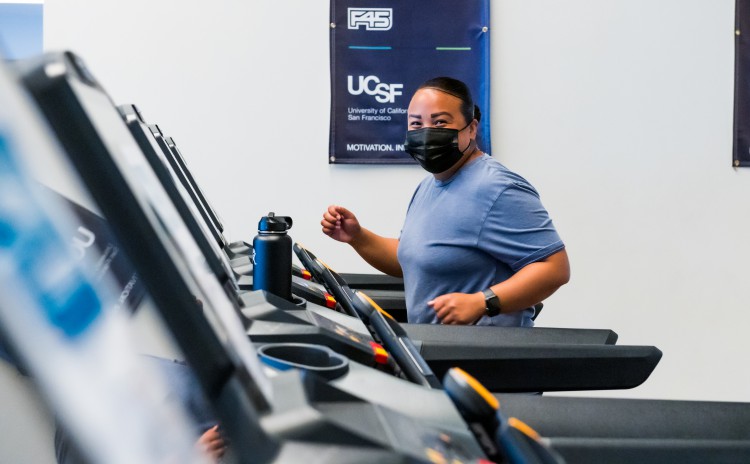 Marco Sanchez, UCSF Documents & Media
The Bakar Fitness & Recreation Center at Mission Bay is set to reopen on Tuesday, July 6. Bakar and the Millberry Fitness & Recreation Center at Parnassus have been closed since the beginning of the pandemic in March 2020 with the exception of a brief three-week reopening in November before the second COVID surge.
The center will initially open to UC San Francisco students and employees. The California COVID-19 guidelines for higher education currently prohibit the general public from visiting campus sites.
"We hope the restrictions that prohibit members of the public from visiting university campuses in California will be lifted sometime this summer so that we can welcome back spouses or partners of UCSF students and employees, UCSF retirees, alumni, neighbors, and other members of the general public," said Liane Wong, interim director of UCSF Fitness & Recreation.
During the prolonged closure, a majority of the Fitness & Recreation staff were redeployed to perform meaningful work elsewhere at UCSF. Many are helping in UCSF's COVID-19 vaccination clinics and with contact tracing efforts, and their services are needed through June. "The July 6 date enables us to reopen the Bakar Center once our team members have completed their redeployment responsibilities. We thank our employees for helping UCSF in various capacities during this time of great need," commented Wong.
Fitness center staff Tiffany Yee, Joanna Yee, Gerri Nuval, Aldo Rossetto, Marta Fernandez, Jackie Rodriguez and Lorna Bernardo all accepted temporary positions working in the university's COVID-19 vaccination clinics. Greg Whisman, Meghan Arriaza, Danski Perez and Kristin Tacorda served as "patient navigators" to help Occupational Health with COVID contact tracing and triaging email and voicemail questions.
"I've seen true growth in Fit Rec employees stepping up to provide necessary support to UCSF Health and engaging in meaningful work to help get all of us through this pandemic," said Shauna Strong, associate director for CLS central administration.
Wong said the Fitness & Recreation staff recently held a virtual staff reunion and it was clear how important it is for the staff to reunite with each other and with the members.
"I am thankful we're still together as a team and that UCSF has been so supportive of Fitness & Recreation," said Adrienne Chambers, the fitness manager at the Bakar Fitness & Recreation Center. "I am also thankful our team members were able to continue working at UCSF through redeployment."
Wong said Fitness & Recreation staff are excited to reunite but they are also eager to see members. "Our members are a big part of our community and our staff are excited to see them."
Wong said another benefit to opening in the summer is it gives members more time to get fully vaccinated and feel comfortable working out in the gym. "It also provides us with some time to assess how the various public health guidelines settle. We look forward to opening again when the overall experience can be most enjoyable to our members."
The Parnassus Fitness & Recreation Center will open at a later date, depending on staff expertise, member interest, and after Bakar is operating smoothly.
Members who have questions can contact Fitness & Recreation at member.services(at)ucsf.edu.