53 Years of Biking, Mostly to UCSF
---
By Sophia Labeko on October 18, 2021
---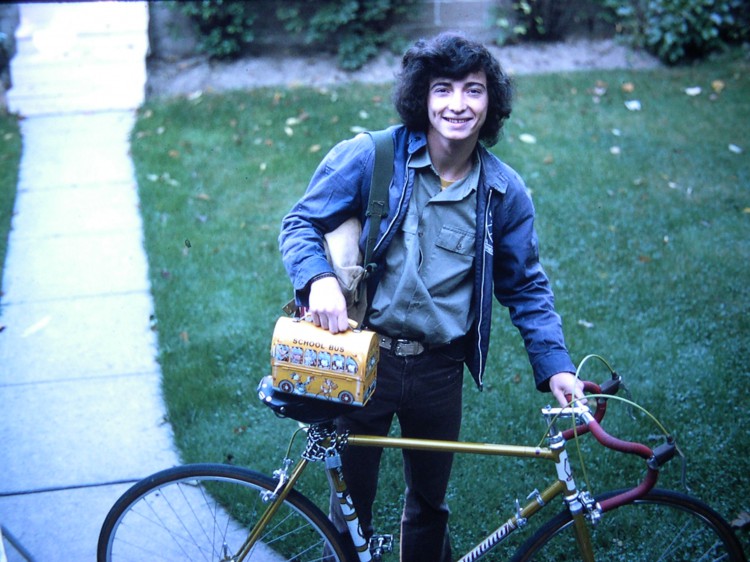 David Teitel, MD, UCSF Department of Pediatrics, is a pediatric cardiologist who specializes in treating newborns, children and young adults with congenital heart disease, the most common birth defect. He's an expert in pediatric cardiac catheterization, a procedure in which a long tube is passed into a blood vessel and to the heart. Teitel has published over 100 papers, co-authored a book on neonatal cardiology, and gives lectures on the topic as far as Europe and the far east. Clearly an expert in cardiac health, Teitel has been supporting his own heart health by riding his bicycle for over 53 years.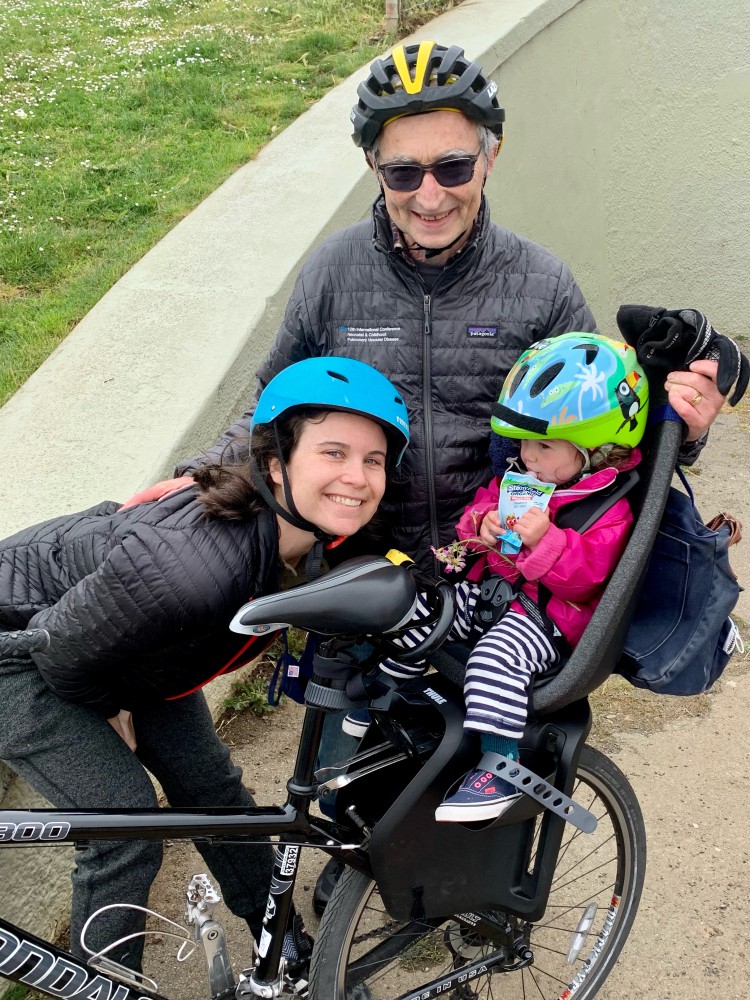 It's safe to assume his zeal for biking started when he got his first two-wheeler at 5 years of age. Since then, he has rarely commuted any other way. In the '70s, during medical school in Toronto, Teitel rode his bike to and from school (as pictured above). "Different hair in those days; also note my very cool school bus lunch box," he comments on the picture. Even now, for quality family time, he cruises with his granddaughter, Sela, and several family members including his niece, Aidan (Tietel, Sela, and Aidan pictured on the right). Aidan, who just started medical school in Washington, "loves her bike commute to campus," says Teitel, the proud uncle.
Route
For over four decades at UCSF, Teitel still pedals to and from work. The only thing that has changed over these years is his destination campus. He used to commute to Parnassus Heights, which from his Noe Valley home, was a San Francisco-picture-perfect route of up and downhill. Now, he goes to Mission Bay; even though the path has changed, he jokingly says that "Sam Hawgood graciously planned the location of the Children's Hospital so that the time of my bike commute to work wouldn't change, at about 20 minutes."
Teitel feels safe during his commute because most of the path aligns with either bike lanes or slow streets, a safety effort lead by the San Francisco Bicycle Coalition, of which he's been a member for nearly four decades. "You always have to bike defensively in any city, but I feel as safe biking in San Francisco as in any other city," he says.
Mind and Body Benefits
Teitel, pediatric cardiologist, clearly identifies pediatric and cardiovascular benefits of biking. "Starting to bike as a child, like I did, creates a wonderful life-time habit. Obviously, regular aerobic exercise like biking also assists in weight control, metabolic health, and respiratory fitness, and undoubtedly gives people a better sense of well-being," he says.
As many regular bike commuters would agree, Teitel reminds that biking is a better way to start and finish a workday, "biking in to work prepares me for the day the way sitting in a car would not. I am NOT a morning person! Biking home is a wonderful way to remove oneself from the stresses of the day at work."
Keep in mind, that regular biking uses the same muscles over and over, so incorporate stretching and yoga, "to counteract the negative impact of biking on one's flexibility and back. This took me too long to learn," shares Teitel.
Do as I Say, Not as I Do
"Although I wouldn't recommend it to others, I have always listened to something while biking (right ear only – I'm a pretty good multi-tasker and can focus on traffic noises with my left ear), and the pleasure I get from listening to audiobooks is another enormous benefit, particularly for my mental health. Books are another passion of mine – I read regularly but listening is a very special way to enjoy a story," Teitel says of his routine but not as a recommendation to others.
So what?
From cardiovascular health to mental wellness, biking checks off numerous boxes. "We work in an amazing city that has a climate conducive to year-round biking and 16.7 miles of protected bike lanes within the tiny 7x7 footprint of San Francisco. One can harvest the commute time from one's busy life and make it a pleasurable experience that is healthy for one's body and mind," he says encouragingly.
In addition to the clear health benefits, biking supports the wellbeing of our planet. Carbon-free transportation is crucial for the health of our planet and to getting UCSF to its Carbon Neutral by 2025 goal. If you have the option, choose to ride your bike today.
For bike routes and UCSF bike parking facilities, please visit: mycommute.ucsf.edu