Commute Survey: UCSF Community Ditches Cars for Alternative Transportation
---
By Robert Hood on February 06, 2020
---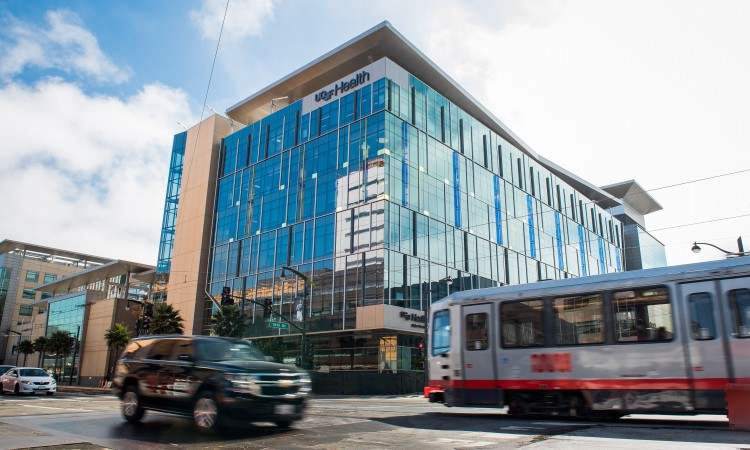 According to the more than 8,000 UC San Francisco employees, trainees, and students who participated in a 2019 commute survey administered by UCSF Transportation Services, the percentage of UCSF commuters who use alternative transportation modes instead of driving alone to campus in their cars increased from 73.8 percent (2018) to 75.59 percent (2019).
Compared to an average drive alone rate of 33 percent among San Francisco businesses as recorded by the San Francisco Municipal Transportation Agency, UCSF stands out as a best practice.
Several key factors are contributing to the lowered demand for individually driven cars, including the availability of UCSF's free shuttle services, increased traffic congestion in the region and limited campus parking supply. The addition in 2019 of more campus housing and on-campus amenities (such as childcare, food service, etc.) also diminishes the need for cars.
Because of these factors, the UCSF community has embraced the use of alternative transportation, including public transit, UCSF shuttles, van/carpooling, and walking to help support the University of California 2025 Carbon Neutrality goal. This also frees up campus parking for patients, who are less able to take non-vehicular modes and improves individual health outcomes, since taking alternative transportation typically requires more physical movement than driving alone in an individual auto.
"We're encouraged that fewer people are driving to campus and, instead, more are seeking alternative commuting options," said Georgina Arias, transportation demand manager at UCSF Transportation Services.
According to the latest survey, the UCSF community appears to be ditching their cars mainly in favor of public transit, the UCSF shuttle system, and telecommuting, all of which increased in usage.
UCSF Shuttles
Transportation Services has seen an uptick from 10.86 percent (2018) to 11.6 percent (2019) in the number of commuters taking advantage of the university's free shuttle network that connects faculty, staff, students, patients, patient family members, and visitors to major campus locations, including Parnassus Heights, Mission Bay, Zuckerberg San Francisco General Hospital, Mount Zion and more.
Increased ridership may be due in part to recent enhancements, including increased service from the Mission Bay campus to BART. More shuttle connections between public transit and UCSF campuses are being planned for 2020.
Alternative Transportation
To help employees discover alternative ways to get to campus, Transportation Services offers a robust list of choices. The UCSF community can plan their daily UCSF commute with ease at MyCommute, an online platform that is customized to provide transit options based on their unique starting location and destination. And there, commuters can get matched with carpools in their area too.
Alternative options also include a UCSF vanpool program. By sharing the vehicle lease, gas and bridge tolls, employees can lower their commuting costs and save time by riding in the HOV lane. Those interested in vanpool can try out the service for two weeks free.
Telecommuting
The university has been actively promoting the use of telecommuting for positions that are conducive to working remotely, especially on those days when traffic is forecast to be heavy. This promotion may explain the increase in regular telecommuters to nearly four percent, though the percentage remains low because not everyone can telecommute.
Fifty-six percent of this year's respondents indicated that their position is not conducive to telecommuting, a percentage consistent with previous years. For example, most clinical positions require on-site work. In addition, 15 percent of the survey's respondents said their department's culture is not supportive of telecommuting, an improvement over the 17.6 percent in 2018.
Additional details from the 2019 survey can be found on the accompanying infographic.
For more information visit: Transportation.ucsf.edu