Prepare and Submit an Ad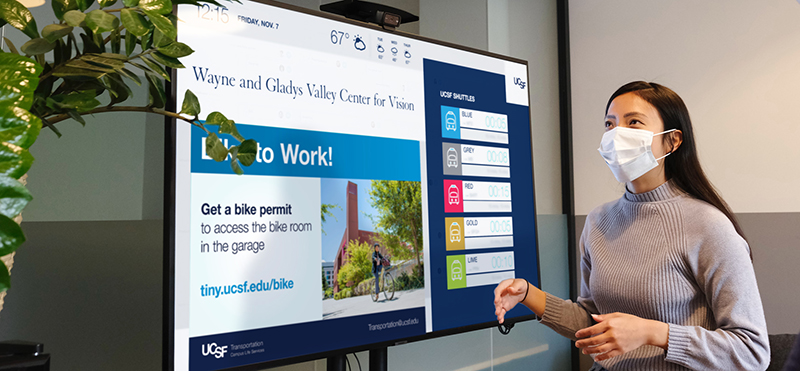 Follow the below instructions to prepare and submit an ad for distribution in the campus digital sign network.
Prepare an Ad
Design your ad within the UCSF brand guidelines according to these technical format specifications:
4.5 wide x 3 high aspect ratio
2400 x 1600 pixels at 96 dpi
JPEG format
If you require assistance, consider enlisting the Documents & Media Design Studio.
How to Save Your Artwork in PowerPoint
1) Download a digital sign PowerPoint template.
2) Create your ad using the template.
3) In the menu, select "Export." Choose the JPEG file type and enter the size: 2400 width and 1600 height.
Submit an Ad
There is currently no fee for UCSF community members to post in our digital sign network. E-mail your ad to .(JavaScript must be enabled to view this email address) two weeks prior to your posting date.
In the e-mail, include:
Posting locations (State "All Locations," choose a campus, or list individual locations.)
Posting start date
Posting end date
Maximum duration for posting an ad is 3 months.
Campus Digital Sign Network Locations
Parnassus Heights
Clinical Sciences Building
Millberry Union Food Court
Office of Diversity and Outreach
Parnassus Library Shuttle Stop
School of Nursing Café, Ladle and Leaf
Mission Bay/East Campuses
654 Minnesota Street Reception
2001 The Embarcadero
Genentech Hall
Mission Center Building Lobby
Mission Hall Lobby
Mission Bay Conference Center, Levels 1-2
Mission Bay Hospital Parking Garage Cashier
Office of Diversity and Outreach
Pritzker Psychiatry Building - Coming Soon
Wayne and Gladys Valley Center for Vision, Tower
Weill Institute Town Centers, Levels 3-6
William J. Rutter Center, 4th Floor Office
William J. Rutter Center, Atrium
Ad Development Resources
UCSF has an array of resources to support effective ad creation. Explore these resources:
Documents & Media Design Studio
Would you like assistance in developing ads or a suite of templates that you maintain, with your UCSF department branding? It's easy to request a department branded suite of templates that you can simply manage in PowerPoint or the layout application of your choice. Documents & Media is a cost-effective design resource that can assist you to efficiently meet campus brand and digital sign technical requirements.
UCSF Brand Identity
Before designing an ad, get to know the campus's guidelines and logo requirements for managing the UCSF brand.
UCSF Digital Signage Templates
University Relations provides digital sign templates in a variety of themes and colors editable in PowerPoint. The templates contain specific instructions for exporting your file to meet current technical requirements of the digital sign network.