UCSF Mobile App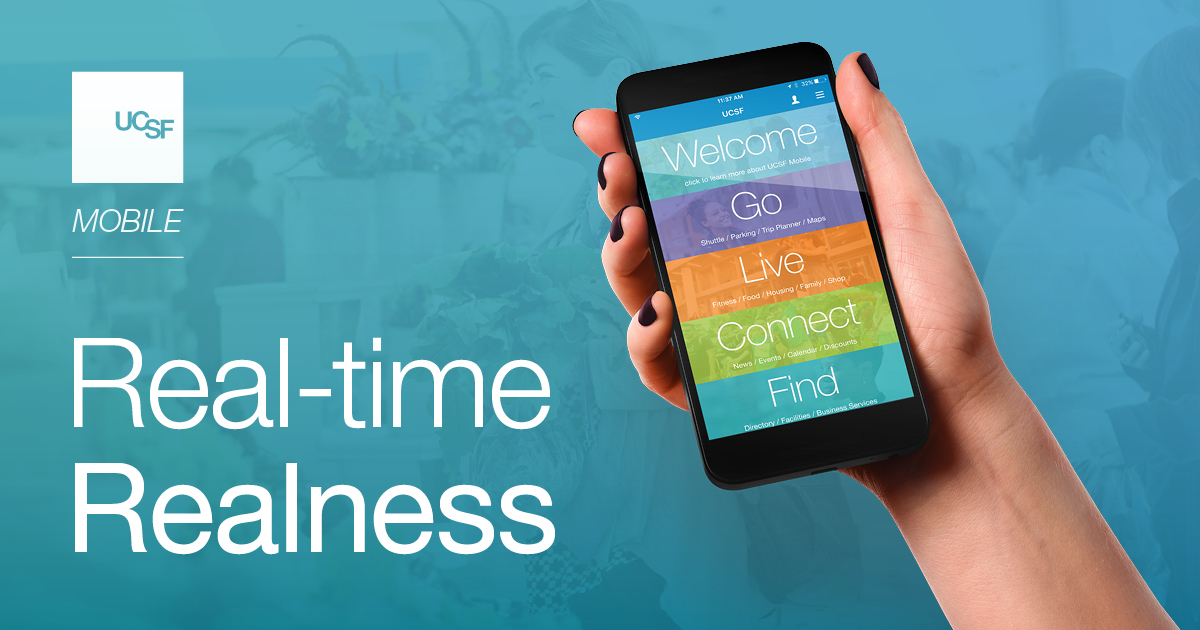 UCSF Mobile: the newly redesigned UCSF mobile app boasts more than a gorgeous new look. It now includes more info and easier-to-use navigation including location-awareness technology, real-time info (what's open, what's not) and improved access to the UCSF directory to help you get more out of your UCSF experience.

Let's take shuttle service and directions for example. The new UCSF mobile app shows you:

Up-to-the-second shuttle arrival, departure, and delay information
Real-time shuttle tracking via the Live Shuttle interactive map
The new UCSF mobile app also syncs with Google and Apple maps; and, with location-aware technology, provides walking or driving directions to your location with estimated travel time to your destination.

New features include:
Detailed food, shopping, & business hours at Parnassus, Mission Bay, and other locations
Multiple UCSF Facebook & Twitter feeds
Expanded universal search of main campus buildings, departments, & services
Important UCSF numbers and resources
Integration with UCSF events calendar, and news
Push notification when content is updated such as changes in services or programs, or safety alerts.
UCSF Mobile can be downloaded at the Apple App Store or Google Play and is available for faculty, students, staff, and visitors.
Be a smarter smarty pants with the official UCSF mobile app. Download for Android or iPhone today.
FAQs

Do I have to pay to install UCSF Mobile app?
No. The app is free for both iOS and Android.
How do I install the UCSF Mobile app?
Open this page on your iOS or Android mobile device. Click the appropriate logo (see Google Play and App Store logos above) and you will be directed to the iOS App Store or Google Play Store page to install the app. Be sure to log into your store account.
I'm asked to allow push notifications from UCSF Mobile app. What is this used for?
Push notifications will alert you to info updates such as news, calendar events, or changes in services and programs.
What network should I use for the UCSF Mobile app?
For the best experience, please use your cellular service or, if you have access, log onto the UCSF WPA network.
Does UCSF Mobile app collect any personal information from my device?
The UCSF Mobile app complies with UCSF's Privacy Policy. It does not gather any personal information which is not directly related to functionality within the app.
Privacy Policies

The University of California respects the privacy of the members of the University community and has established policies and procedures consistent with federal and California law to guide the conduct of University activities relating to personal information. The monitoring of network traffic and the use, storage, disclosure, handling, and disposal of this information shall be done within applicable laws and policies.
Campus Life Services does not share or sell user information with any third party, or other UC or UCSF entities. Download the UC Office of the President Electronic Communications Policy.