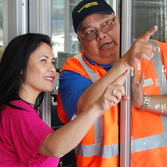 Transportation
Wherever you're going at UC San Francisco, we can help you get there. With campuses across San Francisco, we make sure each one is accessible and equipped to meet your needs. From car and bike parking to free shuttles to commuter pools to savings programs, we have several ways we make your life better on your way here.
Spotlight
Effective 7/28/14, boarding restrictions enforced on RED and YELLOW; please see Service Alerts for more detailed information.
Routes & Timetables
Our award-winning shuttle system serves all primary UCSF campuses, as well as select secondary campus locations. Service is FREE to UCSF faculty, staff, students, patients, and visitors.
Should you have additional questions, or want to provide specific feedback, feel free to contact us.
For up-to-the-minute alerts, including travel delays and holiday schedules, please follow us on Twitter (@UCSF_Shuttles).
Click here for shuttle service alerts.
2014 baseball season starts in April, although SF Giants will be having pre-season games at AT&T park starting Thursday, 3/27. Please note that any home games impact traffic to and from Mission Bay, especially day games. Expect traffic delays 2 hours prior to game start and after game end.
SF Giants Schedule

Holiday Schedule
Upcoming Holiday:
Sept. 1st – Monday, Labor Day
On this holiday the shuttle service will be limited to the following:
• Parnassus, East/West bound (5:00pm – 12:45am)
• Mission Bay Local (5:00pm – 12:45am)
For a list of future Holiday routes and timetables, please click Shuttle Holiday Calendar.

UCSF Shuttle: General rules, regulations and passenger guidelines
NO unnecessary conversations with Driver
Shuttle buses are not permitted to stop at any location not identified in this timetable
UCSF Shuttle ridership is restricted for use by campus faculty, staff, students, patients and patient family members, and formal guest
No minors (less than 18 years old) may ride without a parent or chaperone
You maybe required to show the driver appropriate identification in order to board the shuttle
Drivers follow the printed timetables, as allowed by weather and enroute traffic conditions
Drivers are not permitted to make unauthorized stops (only at approved UCSF Shuttle stops)
Passenger safety will not be jeopardized to maintain the timetable
No eating, drinking or smoking is permitted in any shuttle vehicle
No animals may ride, except for service animals

Shuttle Routes & Timetables
As you can see on our System map, wherever you're going on campus, we can help get you there:

Shuttles operate according to scheduled timetables. Our drivers work to maintain an on-time record, where weather and traffic conditions allow. However, passenger safety is our first priority and will not be jeopardized in order to maintain the schedule.
Traveling between Parnassus and Mission Bay at peak commute times? We offer direct service.
Monday-Friday, 7:20 am-7:25 pm
BLACK: Parnassus > Mount Zion > Laurel Heights
Monday-Friday, 6:40 am-8:00 pm
BLUE: Parnassus > SFGH > Mission Bay > Mount Zion
Monday-Friday, 5:35 am-8:47 pm
Gear
Monday-Friday, 6:45 am-6:27 pm
BRONZE: Parnassus > Aldea > Surge/Woods
Monday-Friday, 6:45 am-6:29 pm
Eastbound/Westbound/Parnassus Night/Evening
Eastbound: Monday-Friday, 4:00 pm-12:00 am
Westbound: Operates weekdays, weekends, and holidays, 5:00 pm-1:00 am
GOLD: Parnassus > Mount Zion > Mission Bay > SFGH
Monday-Friday, 5:45 am-9:22 pm
GREEN: Mission Bay > China Basin > 654 Minnesota
Monday-Friday, 6:25 am-6:55 pm
GREY: Parnassus > Mission Bay
Monday-Friday, 6:30 am-9:40 pm
LIME: Parnassus > BDC > MCB
Monday-Friday, 6:00 am-8:35 pm
Mission Bay Local
Monday-Friday, 5:00 pm -1:00 am
"On demand" service that takes you anywhere you want to go within the service area outlined.
PINK: Parnassus E/R > Kezar
Monday-Friday, 5:15 am-9:00 am
PURPLE: Parnassus (Library) > 3360 Geary > Mount Zion > 3360 Geary
Monday-Friday, 6:15 am-6:38 pm
RED: Mission Bay > MCB > 16th Bart
Monday-Friday, 6:00 am -7:50 pm
TAN: Parnassus > Laurel Heights > Mount Zion
Monday-Friday, 6:50 am-7:45 pm
VA: Parnassus > VAMC
VA: Parnassus > VAMC
Monday-Friday, 6:35 am-7:05 pm
YELLOW: 16th BART > MCB > 20th & Alabama > SFGH > 20th & Alabama
Monday-Friday, 6:05 am-8:20 pm

Eating, drinking, smoking, and non-service animals are prohibited on shuttle vehicles. As a courtesy to other passengers and to ensure privacy of information, we ask that you be mindful of litter, noise levels, and cell phone conversations.
Quick Links
News & Specials
RED and YELLOW Boarding Restrictions (UCSF ID Required)
RED and YELLOW Boarding Restrictions (UCSF ID Required)…
Read more >>
Winter Holiday Shuttle Updates - 2014
UCSF Transportation offices at Parnassus and Mission…
Read more >>
We've Got Wi-Fi
To make your UCSF shuttle trip more productive and…
Read more >>
Explore
Follow Us on Twitter!
For real-time updates on our inter-campus shuttles,…
Read more >>