Shuttles Added to Serve Mission Bay's Ridership Growth and Changes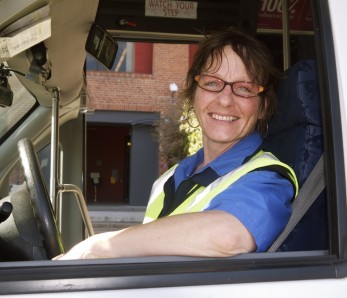 Responding to growing demand and changing passenger patterns, UCSF Transportation Services is formally changing its shuttle schedules beginning April 4.
Over the past year, the number of passengers using shuttles between Mission Bay, Mission Center Building, and 16th Street Bart Station (Red Shuttle) has nearly doubled, increasing from 144,000 to 283,000 passengers in 12 months. Ridership between Parnassus and Mission Bay (Grey Shuttle) has grown from 374,000 to 389,000 passengers over the same period.
"In response, we've added more shuttles during the peak commute periods on these and other popular routes," said Erick Villalobos, Director of UCSF Transportation Services.
Although the new schedule will be formalized on April 4, Transportation Services already added needed shuttles on an unscheduled basis. "This year we couldn't wait to add shuttles at the normal springtime schedule update. We responded to increases and changes much earlier, but on an unscheduled (unpublished) basis," Villalobos said.
"Specifically, during peak AM and PM commute hours, we have up to four Red and seven Grey shuttles in operation. This represents a 25 to 30 percent increase in service, respectively, with a Grey departing every 10 to 12 minutes and a Red every 10 to 15 minutes during peak demand periods. We also typically run our bigger shuttles on these two routes, ones that accommodate 33 instead of 22 passengers," Villalobos said.
Robert Wong, Shuttle Field Supervisor, said patrons have responded very positively to the additional shuttles on the Grey and Red lines. "Customers are very satisfied with our efforts, especially our increased service during the PM peak demand period."
Although the added shuttles will alleviate, if not completely eliminate wait time on these routes, customers can be assured that the average time anyone will have to wait on the Red and Grey routes during the commute period is approximately 15 minutes. That is, of course, assuming the unexpected doesn't occur. "Our drivers do their very best to adhere to our posted departure times, however, please understand that traffic can be unpredictable and delays may occur," said Raymond Yip, Lead Shuttle Field Supervisor. Real-time updates for the expected arrival time of your shuttle by using our UCSF Nextbus website to obtain GPS predictions for all UCSF shuttles.
These and other schedule enhancements have been updated on Transportation Services website. "I rely heavily on the Campus Life Services' UCSF mobile app to view schedules and plan my trips," said Clare Shinnerl, Associate Vice Chancellor of Campus Life Services who commutes via CalTrain and then connects to the various campuses via the shuttle system. The new schedules will appear on the UCSF mobile app on April 4. The app can be downloaded by searching for CLS Services at UCSF at Google Play or the Apple Store.
UCSF's shuttle system transports more than 2.5 million passengers a year on 16 routes, the largest and most complex shuttle system in the UC System. Because of its complexity and given the number of guests using the shuttle system, Transportation will continue to make available "Shuttle Ambassadors" to assist passengers.
All UCSF shuttle service is provided at no cost to riders. Passengers may wonder how operating a free shuttle service is possible. Villalobos explains that revenue generated from UCSF's Parking Operations offsets the costs for the free shuttle service, along with contributions from UCSF Health. The use of parking revenue to fund shuttles and a variety of alternative transportation programs is a UC system-wide standard practice.
Adding one shuttle to provide eight hours of service per day costs about $100 per hour or $215,000 per year to operate. As such, a critical mass of passengers is needed to justify added service. "We obviously have that critical mass on the new scheduled service we are announcing. We also want to make sure we operate shuttles in a sustainable manner by minimizing our greenhouse gas emissions on a per person basis," explained Villalobos.
In the next few weeks, Transportation Services will add services that will encourage the UCSF community to only travel to campus in a single occupancy vehicle when necessary. Improvements in the shuttle system and constantly exploring alternative modes of transportation are a big reason why UCSF is recognized as a Best Place to Work for Commuters.