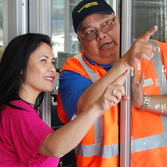 Transportation
Wherever you're going at UC San Francisco, we can help you get there. With campuses across San Francisco, we make sure each one is accessible and equipped to meet your needs. From car and bike parking to free shuttles to commuter pools to savings programs, we have several ways we make your life better on your way here.
New Housestaff single day use option now available!
Please stop by our Parnassus office to apply for the new Pay By Phone daily use program.
At UCSF, you'll always find your space. With options that are convenient and cost-effective, we put your needs in the driver's seat.

Read more >