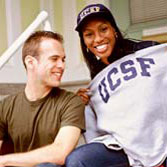 Retail
Retail Services provide on-campus dining, shopping, and banking services to the faculty, staff, and students at UC San Francisco. Our goal is to bring value, convenience, and variety to the UC San Francisco community and enhance the quality of life on campus.
Love Your Vendor
Every time you buy from a campus retailer, your dollars fund activities, programs, and entertainment to improve your quality of life at UCSF.
Computers
Dell
Available now, shop online at UCSF Campus Procurement and Contracts.
Apple
Campus Procurement and Contracts has created an online store to facilitate department purchases from Apple. Instructions for placing orders from Apple for UCSF departments can be found here.
Software and Computer Accessories: for more information, visit the online UCSF Campus Store.

Research Software Licensing (RSL) (formerly Data Management Services) offers annual licenses for research software to UCSF faculty and staff. For details, please visit the UCSF Library website.

For personal purchases of computer hardware, software, and accessories: Higher education discounts can be received for Dell and Apple products. For your convenience, you may use your educational discount by visiting the following websites: Dell Higher Education and Apple Education.
Computer Repair Services: Campus departments with a department IT resource coordinator should work with their coordinator. For those departments without a department IT resource coordinator, should work with a vendor such as Eaton and Associates.
Quick Links
News & Specials
Walgreens to Open New Pharmacy at Mission Hall on Jan. 27
Steve Simon is as excited for the Jan. 27 soft opening…
Read more >>
Ladle & Leaf's locally sourced fare breathes new life into old UCSF gathering place
On January 11, Ladle & Leaf, an evolution of San…
Read more >>
UCSF Campus Store Opens in Millberry Union
A new 900-square-foot UC San Francisco Campus Store…
Read more >>
At Your Campus
View Retailers at Your Location
Download a Guide to Campus Retailers. Here you'll…
Read more >>
Find Us
Find Us at Your UCSF Location UCSF is a multi-campus…
Read more >>