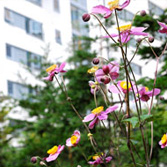 Housing
We provide quality on-campus housing and related services to UC San Francisco students, post-docs, residents, clinical fellows, and faculty. If you prefer off-campus living, browse ads from private landlords or potential roommates. Short-term visitors may view a wide selection of hoteliers near campus locations. Let us assist you with your accommodations in San Francisco.
Spotlight
Mission Bay Tenants: It's the time of year when the package room receives hundreds of boxes a day. Please be diligent in picking up your deliveries!
Summer Visitor Housing
In the past, UCSF Housing Services offered a limited number of Summer Visitor rooms for interns working at UCSF. However, due to extremely high demand from current UCSF students, we are unable to continue this program in 2015-16.
Other universities in San Francisco offer some Summer Visitor Housing programs:
University of San Francisco click here
American College of Traditional Chinese Medicine click here
For off campus short-term housing (hotels, guest house, corporate rentals, etc.) information please visit:
http://campuslifeservices.ucsf.edu/housing/services/off_campus_housing
Rexidence is a company that provides student housing accommodations. It is not affiliated with UCSF, but they have a location near UCSF's Mount Zion campus.
Quick Links
News & Events
Our Water Conservation Efforts
As you are already aware, California is experiencing…
Read more >>
Need to furnish your apartment? Or need to sell / give away your stuff?
We have a new, FREE, online barter/trading system,…
Read more >>
Calendar