Mission Bay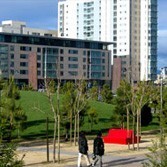 City living in San Francisco's newest neighborhood.
Located in one of the sunniest parts of the city, Mission Bay is UCSF's newest housing community, and home to the majority of UCSF Housing tenants. Affording great views and all the conveniences, this complex is comprised of four high rises totaling 431 units, and features multiple floor plans: studios, 1-bedroom, 2-bedroom, and 3-bedroom apartments – plus an option to rent a single room in a 4-bedroom group apartment.
Features
▪ On site Housing Services office and 24/7 emergency maintenance response
▪ Spacious common laundry rooms, secured bike rooms, and a community room
▪ Dishwashers, garbage disposals, ovens/ranges and refrigerators
▪ Solid walls and double-paned windows reduce noise
▪ No smoking, no pets
▪ All apartments are unfurnished but include carpeting and window coverings
▪ Ethernet service and wireless internet included (pre-activated data ports in each room)
▪ Walking distance to Genentech Hall, Gladstone Institute, Rock Hall, Byers Hall, The Bakar Fitness & Recreation Center*, China Basin, Giant's Stadium and Cal Train
▪ Frequent UCSF shuttles connect to all other UCSF locations, local supermarkets and shopping districts
▪ Library, restaurants, cafes, pub, nearby ATMs
*UCSF students have a Fitness & Recreation membership included in registration fees, others may have enrollment and membership fees.
Please be advised that UCSF tenants are subject to 2-year term limits in campus housing. After staying in your assignment for 24 months, you will be required to move and find alternative housing accommodations. Term limits are cumulative in a lifetime, regardless of university affiliation or break in tenancy.
Please visit Floor Plans and Virtual Tours for video, photos, and floor plans of the Mission Bay complex.
On Campus Rental Rates
Rental Rates as of July 1, 2017
Rental Rates as of July 1, 2018
To download a comparison of UCSF Housing rents to San Francisco market rates click here.
Also compare UCSF Housing rents to comparable institutions click here.