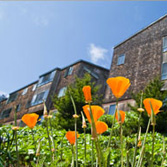 Housing
We provide quality on-campus housing and related services to UCSF students, post-docs, residents, clinical fellows, and faculty. If you choose to live off-campus, browse ads from private landlords or potential roommates. Short-term campus visitors may view a wide selection of hoteliers near campus locations. Let us assist you with your accommodations in San Francisco.
Spotlight
New faculty homes are coming to 5th Avenue at the Parnassus Campus! We are currently constructing two 3-bedroom flats that will house faculty and their families, opening in the Summer of 2013.
Faculty Housing
As a focus of UCSF Faculty recruitment and retention, a limited number of unfurnished houses, flats, and apartments is available to Faculty at the Mission Bay or Parnassus campuses. These accommodations and amenities vary significantly. We recommend that you contact Housing Services directly to discuss options and availability.
Assignment
Priority for Housing is based on move in date of the applicant (housing need date). For example, those who apply for August will have priority over those who apply for September. When the date of housing need is the same, priority will go to those with the earliest application date.
Housing Agreement Terms
The minimum agreement term is 6 months. Please be advised that tenants who enter the UCSF Housing Services program and move in after June 1, 2013, will be subject to 2-year term limits in campus housing. After staying in your assignment for 24 months, you will be required to move and find alternative housing accommodations.
Eligibility
UCSF Policy on Campus Housing Eligibility
Apply Now
Online Housing Application
UC Home Loan Program
Housing Services provides resources for rental properties. If you are a faculty member and need home loan information, please contact Academic Affairs.
Housing Near Mount Zion & Laurel Heights
The Prado Group is pleased to announce the opening of their off-campus rental property located at 2130 Post Street in San Francisco. This newly renovated building is only one block from UCSF's Mount Zion campus, and connected by a direct UCSF shuttle to Laurel Heights, Parnassus/UCSF Medical Center, the Mission Bay campus, and San Francisco General Hospital. For more information, contact Meg Russell, Resident Manager, 2130 Post St. San Francisco, CA 94115. (415) 392-RENT (7368), .(JavaScript must be enabled to view this email address), https://www.facebook.com/2130PostApts http:,//www.2130Post.com
Quick Links
News & Events
Aldea Center Landscaping Phase I is complete!
We are happy to report that the construction phase…
Read more >>
Renewal/Transfer Process Coming Soon!
Information about the Renewal/Transfer process (non-faculty)…
Read more >>
Housing Services Implements Composting Program
The City of San Francisco implemented a new law requiring…
Read more >>
Calendar
Copyright © The Regents of the University of California. All rights reserved.