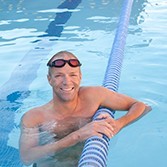 Fitness & Recreation
Join us and become part of our community at UC San Francisco Mission Bay and Parnassus campuses.

We're more than a gym—we're a fitness lifestyle. Cardio, weights, and group fitness classes are here. Plus, we have swimming pools, leagues, massage, a climbing wall, Pilates, personal training, and more. Membership is open to all!
Mission Bay—Outdoor Pool Is Now Open
The outdoor pool at Bakar Fitness Center has reopened! If you need to reactivate your membership, visit the service desk or Member Services.
Quick Links
News
Recipe for a Great Experience: Just Add Water
Take to the Bay for a group experience that can be…
Read more >>
Spinning® Certification—at Millberry 9/28
UCSF Millberry Fitness and Recreation Center…
Read more >>
Massage Positions Available
Visit the Massage Careers page for more information.
Read more >>
Facility Updates
Mission Bay—Elevator and Staircase Update
Bakar Elevator The elevator in Bakar Fitness Center…
Read more >>
Bakar Facility Improvements Project
Update: Bakar Outdoor Pool Reopening 8/1 July 31, 2014…
Read more >>