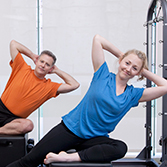 Fitness & Recreation
Join us and become part of our community at UC San Francisco Mission Bay and Parnassus campuses.

We're more than a gym—we're a fitness lifestyle. Cardio, weights, and group fitness classes are here. Plus, we have swimming pools, leagues, massage, a climbing wall, Pilates, personal training, and more. Membership is open to all!
New Member Deal-Join by 7/31
Get a FREE kayaking or stand up paddle trip when you join by 7/31/15. See the News article to the right for more information. Or call Member Services today.
Recreational Sports

Recreational Sports offer a wide range of activities such as clinics, leagues and drop-in sports to meet your recreational needs. Whether you are interested in participating in some exercise or play competitively. We have programs to suit those needs. You don't need to be a member to participant.


Our Programs
Leagues
Drop-in Sports
Rec Pass for UCSF Students
Clinics and Lessons
Clubs
Recreational Sports Links
Register for Leagues
Parnassus Gym Schedule
Mission Bay Gym Schedule
FAQ and Policies Page
Contact the Recreational Sports Team
Join the Recreational Sports e-mail list by contacting .(JavaScript must be enabled to view this email address).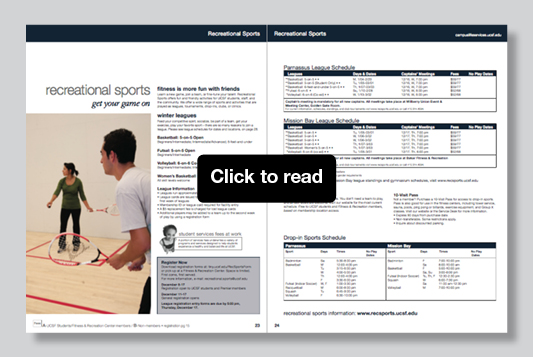 Quick Links
News
Forever Fit
Keeping Up at Any Age Nancy Stoller, Fitness &…
Read more >>
New Member Deal-Join by 7/31
Get a FREE kayaking or stand up paddle trip when you…
Read more >>
NEW! Pon De FLO
Pon De FLO is a Caribbean Reggae dance-based fitness…
Read more >>
Facility Updates
Independence Day Holiday 7/3-7/4
The Fitness & Recreation Centers will be observing…
Read more >>