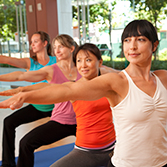 Fitness & Recreation
Join us and become part of our community at UC San Francisco Mission Bay and Parnassus campuses.

We're more than a gym—we're a fitness lifestyle. Cardio, weights, and group fitness classes are here. Plus, we have swimming pools, leagues, massage, a climbing wall, Pilates, personal training, and more. Membership is open to all!
Transform through Yoga
Become a member in October and get a UCSF yoga mat and carrying case. See the news article to the right for more details.
Recreational Sports

Recreational Sports offer a wide range of activities such as clinics, leagues and drop-in sports to meet your recreational needs. Whether you are interested in participating in some exercise or play competitively. We have programs to suit those needs. You don't need to be a member to participant.


Our Programs
Leagues
Drop-in Sports
Rec Pass for UCSF Students
Clinics and Lessons
Clubs
Recreational Sports Links
Register for Leagues
Parnassus Gym Schedule
Mission Bay Gym Schedule
FAQ and Policies Page
Contact the Recreational Sports Team
Join the Recreational Sports e-mail list by contacting .(JavaScript must be enabled to view this email address).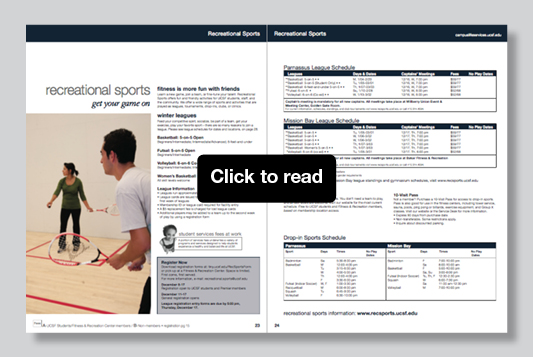 Quick Links
News
Get UCSF Yoga Mat With Membership
Got questions about joining? Get in touch. Parnassus:…
Read more >>
Massage Therapy Helps to Reduce Anxiety and Brings Comfort to Pediatric Cancer Patients
As 19-year-old Steven Rodriguez (photographed left)…
Read more >>
UCSF Massage Services—Pediatric Oncology Program
UCSF Massage Services Pediatric Oncology Program works…
Read more >>
Facility Updates
Mission Bay—Squash Court 1 Open
The Bakar squash court door has been repaired and is…
Read more >>